In a shocking turn of events, Draymond Green was ejected from the game against the Sacramento Kings for stomping on Domantas Sabonis, who was left seriously hurt on the floor. The incident happened around the 8 minute mark of the 4th quarter, when the two players got tangled up under the basket.
Why Did Draymond Green Stomp on Domantas Sabonis?
As Sabonis was on the ground grabbing his ankle area, Green stomped on his lower abdomen with force, causing him to stay down on the court writhing in pain for several minutes. The referees reviewed the play and determined that it was a flagrant foul 2, which resulted in Green's automatic ejection. Sabonis was able to get up after several minutes and stayed in the game. He received a foul for his role in the matter, by grabbing Green's lower leg prior to the stomp.
As the dust was settling, chaos erupted again when an unruly Kings fan flipped off Draymond Green, giving him the middle fingers gesture and some choice words. Green had some choice words of his own leading to a very tense situation. It was definitely the most heated moment of the playoffs so far. Luckily Green didn't take the Ron Artest route, and was able to navigate away from situation before it turned into a physical fight.
This is not the first time that Green has been involved in a controversial play that endangered another player. He has a history of kicking opponents in the groin, such as Steven Adams in the 2016 Western Conference Finals and LeBron James in the 2016 NBA Finals. Some fans were even calling him the "Ball Hunter" back then for his repeated offenses. Green's actions have been widely criticized by fans and analysts, who sometimes question his sportsmanship and professionalism.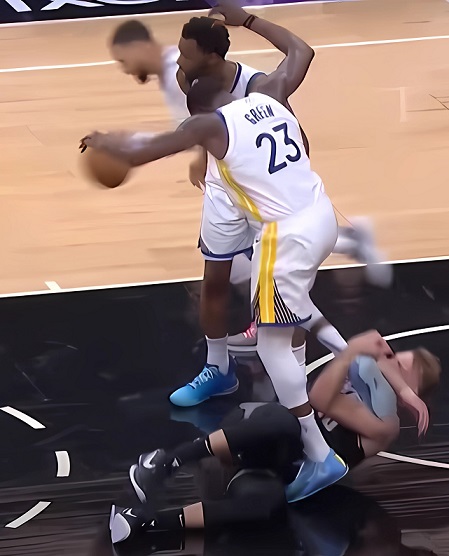 Could a Suspension be at Play?
Green might face further consequences for his latest offense, as the NBA could review the play and decide to suspend him for one or more games. The league has a zero-tolerance policy for violent and reckless behavior that puts other players at risk of injury. It's hard to argue against anyone who believes that was a dirty play, but Sabonis also grabbed his ankle so NBA officials will probably factor that into any decision.