Today was an exciting day for basketball fans who got to witness several players put on 50 point masterpieces. When Darius Garland dropped 51 points most people assumed he was hands down performance of the day, but then Joel Embiid ended up doing the unthinkable with a Wilt Chamberlain like performance.
Why Did Joel Embiid Criticize Himself After Scoring 59 Points and 101 Points in 24 Hours?
After scoring 42 points less than 24 hours ago, Joe Embiid dropped 59 points, 11 rebounds, 8 assists, and 7 blocks. He was only 2 assists and 3 blocks away from a quadruple double. Given the timeframe mathematically speaking Joel Embiid has scored 101 points, 21 rebounds, 14 assist, and 9 blocks in the past 24 hours. After the game Embiid was criticizing himself for missing too many free throws, which shows how dedicated he is to perfecting his craft. He got his 59 against a team that has been surprisingly dominating most opponents in the Utah Jazz.
His legendary performance had the internet buzzing.
Joel Embiid was that close to getting a quadruple double.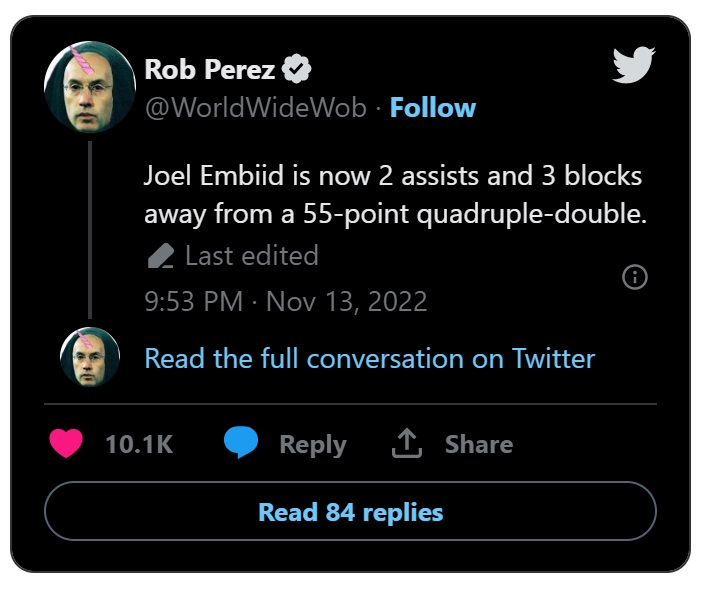 Tyrese Maxey had jokes for Embiid after he told him "I missed too many free throws". Apparently he replied saying, "Yeah, you suck".
_
They're a 6th seed .500 team right now at 7-7 on the season, but with the momentum of a two game win streak, and the presumption that Joel Embiid can sustain his current dominance until Harden returns from injury, Sixers could find themselves in a much better position in a few weeks.