At some point in life we have all experienced using a toilet that wouldn't flush properly. In most cases something like too much poop or tissue is the root cause of the blockage, but in some instances nothing works to unclog it, and a professional needs to be called. For one reddit user named Steve Ratcliffe what was discovered to be blocking toilet of one his clients is making shockwaves worldwide.
Details About the Alien Growth Found in Toilet by Reddit User Steve Ratcliffe
Steve Ratcliffe is a plumber in Britain who has worked on many toilets over the years. However, when he was called to service a clogged toilet on a farm in Wales, he never expected to see what was growing inside it. According to a report from Newsweek this was a unique toilet that was connected to an underground water system made by digging a deep hole into the ground. Upon inspecting the unit the reddit user found a massive alien substance growing inside the toilet.
As you'll see in the photos the alien growth appears to look like an orange octopus with its tentacles sitting comfortable in the toilet. According to Newsweek Steve Ratcliffe believes the toilet might be around a decade old. While it still hasn't been confirmed exactly what the growth is, one plausible explanation could be fungus, which can take on many forms. However, no one has ever seen something like this growing in a toilet. It's just scary to think that thing was in close proximity of the person using the bathroom over the past 10 years. Steve Ratcliffe posted the picture in the subreddit "TerrifyingAsF***".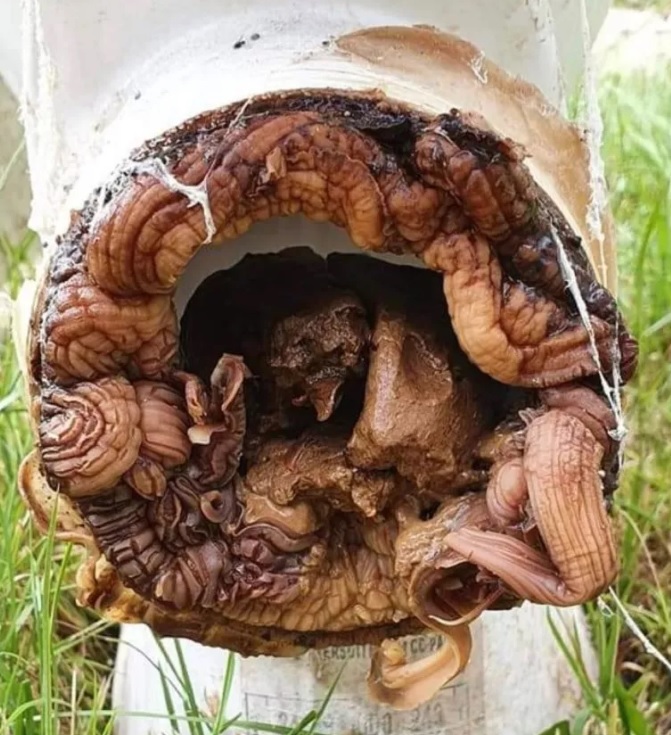 This situation reminded us of the viral news story from 6 years ago where a woman had mushrooms growing out a shower wall in her apartment.
All in all seeing that alien growth in the toilet should serve as motivation to keep your bathroom clean at all times. The thought of an alien watching you while you take a dump is just too frightening.