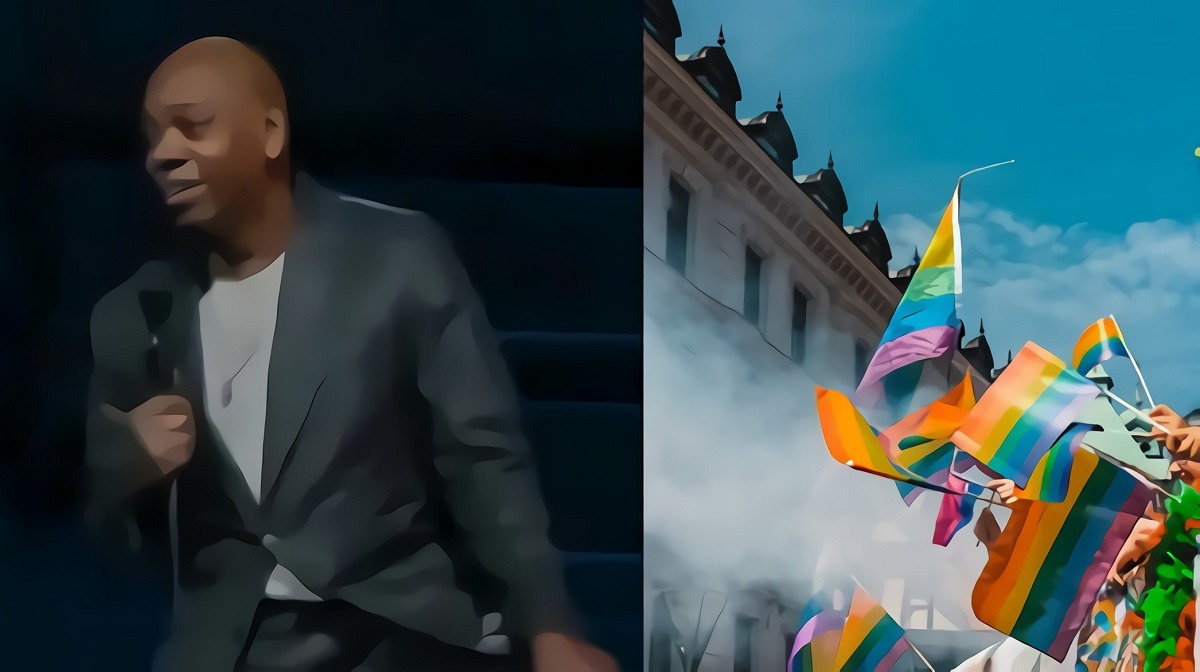 Dave Chappelle has been one of the most outspoken comedians when it comes to keeping it real about LGBTQ community, but it appears in his most recent special he really ruffled some feathers. According to reports, the National Black Justice Coalition is pressuring Netflix to remove Dave Chappelle and his 'The Closer' special from their platform.
Why Does NBJC want Netflix to Remove Dave Chappelle's "The Closer"?
Reports state the National Black Justice Coalition feels that Dave Chappelle's 'The Closer' perpetuates homophobic and transphobic ideologies. In a public statement the NBJC director David Johns said they were very disappointed that Netflix allowed transphobia and homophobia to air on its platform. He pointed out that this year will statistically be the deadliest year for transgender people of color.
As you may or may not know Dave Chappelle went viral after calling out the LGBTQ community for cancelling DaBaby only after he made homophobic remarks, but not when he murdered a teenager in Walmart. Dave Chappelle insinuated that America now values the emotions of gay people above the murder.
Why Did Dave Chappelle Call Himself a 'TERF'?
Along with comments about the DaBaby, another moment that allegedly offended the LGBTQ community was Dave Chappelle calling himself a 'TERF'. The TERF term stands for "trans-exclusionary radical feminist", which is a feminist who actively excludes the rights of transgender women from their battles for women's rights. Dave Chappelle joked that he is self proclaimed male TERF.
GLAAD Issues Statement on Pressuring Netflix to Remove Dave Chappelle's The Closer
Another organization that wants Dave Chappelle removed from Netflix is the Gay & Lesbian Alliance Against Defamation. GLAAD reacted to Dave Chappelle's The Closer stating that his brand has become aligned with disparaging trans and gay people. In their full statement they wrote,
"Dave Chappelle's brand has become synonymous with ridiculing trans people and other marginalized communities. Negative reviews and viewers loudly condemning his latest special is a message to the industry that audiences don't support platforming anti-LGBTQ diatribes. We agree."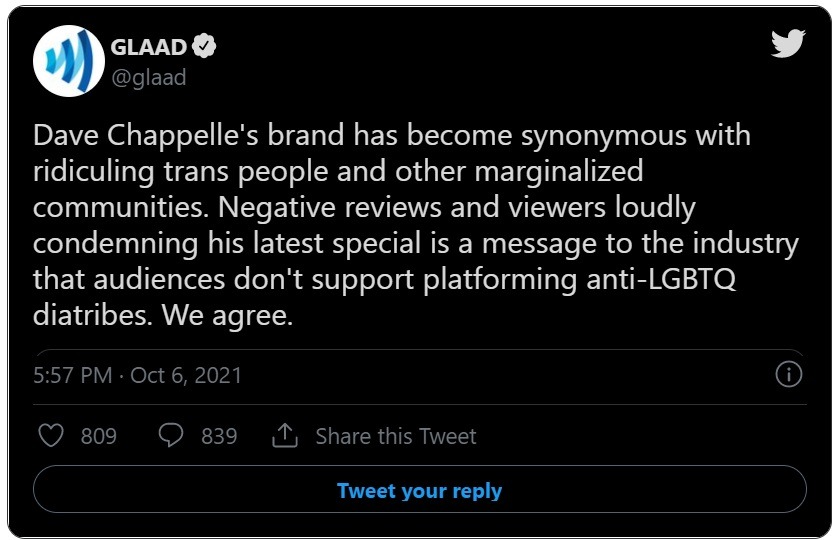 The ironic thing about the LGBTQ Community cancelling Dave Chappelle's The Closer, is that he talked about this happening during the special. He said when you hurt the feelings of LGBTQ people, you get cancelled. Now that's exactly what's happening over some jokes.
Is comedy still comedy if you have to be politically correct? Many people watch comedy just to hear politically incorrect jokes, but did Dave Chappelle go too far?
If you haven't seen 'The Closer' now is the time to watch, because it could be gone forever very soon.
Author: JordanThrilla Staff