Pelicans fans have a lot to be excited about for the 2022-2023 season. After a competitive playoff series against the Suns last season, they have their core back plus a finally healthy and slimmer Zion Williamson. In addition CJ McCollum signed a 2 year extension that keeps him with franchise for at least the next 4 years. During Pelicans' Media Day press conference it was Zion Williamson's jewelry added on to the excitement.
Zion Williamson's Giant Hoop Earring Goes Viral for Looking like Michael Jordan's After Pelicans Media Day Press Conference
Zion Williamson isn't the most fashionable NBA superstar, but he still managed to make a bold fashion statement today. We all know that Michael Jordan's hoop earring is one of the most well known celebrity jewelry accessories of all time. Even till this day he still wears that hoop earring everywhere he goes. Now we all know Zion Williamson signed a 5 year $75 Million dollar deal with Jordan Brand some time ago, and now it appears that could be influencing his jewelry choices.
During his Pelicans' Media Day Press Conference Zion Williamson had a lot to say about his future and health. He claims he's stronger and jumping higher than ever, which is great to hear considering all the injuries he has suffered in his young career, and the bad structure of his knees. However, those bold words were overshadowed by Zion Williamson's hoop earring swinging wildly from his ear every time turned his head. His is even bigger than the one Jordan used to wear. It's possible Zion Williamson has the biggest hoop earring in NBA history. You could even see it stretching his ear lobe like those huge earrings you see grandmas wearing around.
Take a look at Zion Williamson's hoop earring side by side with Michael Jordan's. They practically look like father and son simply because of that jewelry choice.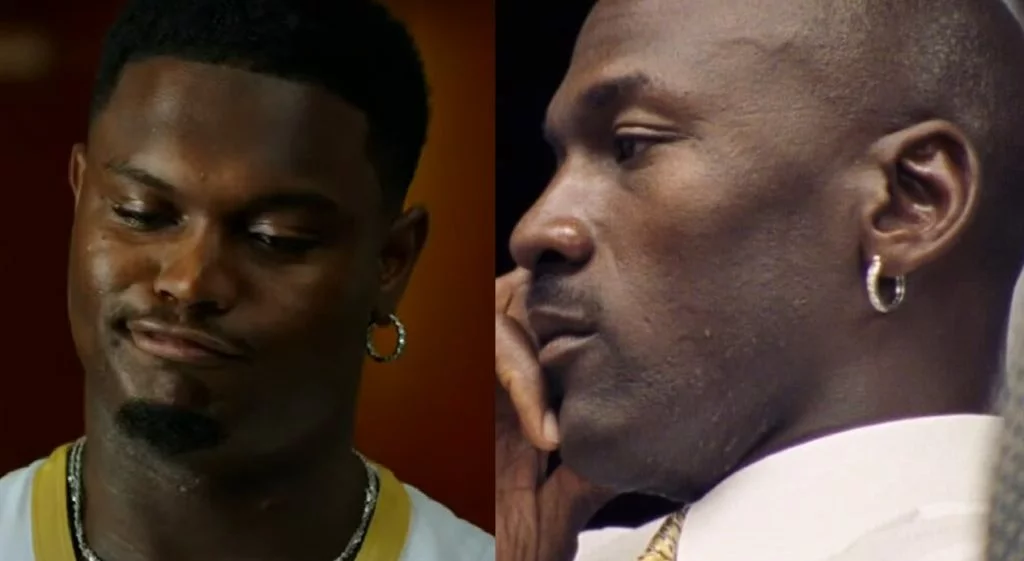 If this a sign that Zion is feeling like Michael Jordan coming into the season it's going to be major problems for other teams in the West. On paper with him, Ingram, CJ McCollum, and that deep roster Pelicans have potential to be a legitimate title contender.
Of course the big issue here is will he be able to stay healthy for an entire season? Only time will tell if those knock knees will hold up.