The Floyd Mayweather vs Deji fight was an eventful affair before, after, and during the matchup. A lot of chaos happened due to bad planning, and Jake Paul wasn't happy about the alleged treatment he received at hands of Mayweather's team. Based on the accusations Floyd might still be feeling some type of way about the hat situation from the Logan Paul fight.
Did Floyd Mayweather Make Jake Paul Leave Dubai Arena Before His Fight? Why Did KSI Refuse to Sit Next to Him?
The chaotic night started when Floyd Mayweather was denied entry at Dubai airport, but after making a call to the Royal Family was allowed to enter. Then came the glove gate where Floyd's team made Deji change from wearing 14oz gloves to 10oz gloves. Floyd was able to stop him in round 6, but suffered a black eye in the process. That's more damage than Logan Paul was able to inflict upon the boxing GOAT's face.
The standout moment of the night was a post from Jake Paul alleging that Floyd Mayweather refused to walk out to the ring until he was removed from the arena. It was also alleged that KSI refused to sit next to Jake Paul. In an IG post Paul wrote, "Floyd wouldn't fight unless I left. Shallow ego. Also KSI refused to be seated near me. Didn't see him the whole event. Hide and go seek". All in all you can tell Jake Paul is really feeling himself since he hasn't been beaten in the ring yet.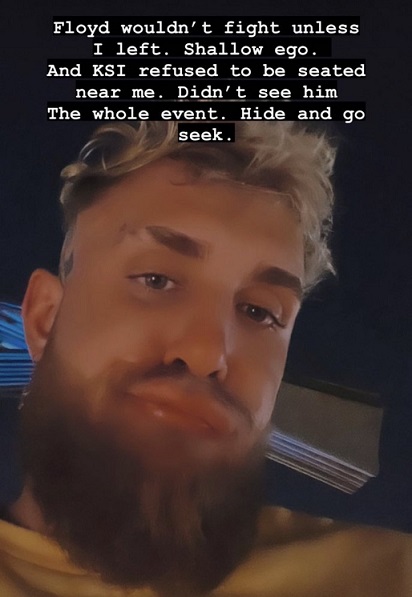 The ironic part about Jake Paul exposing KSI refusing to sit next to him ringside is that he almost got into a fight with Tyron Woodley.
Some people feel that Deji giving Floyd Mayweather a black eye means it was a win for him even though officially he lost.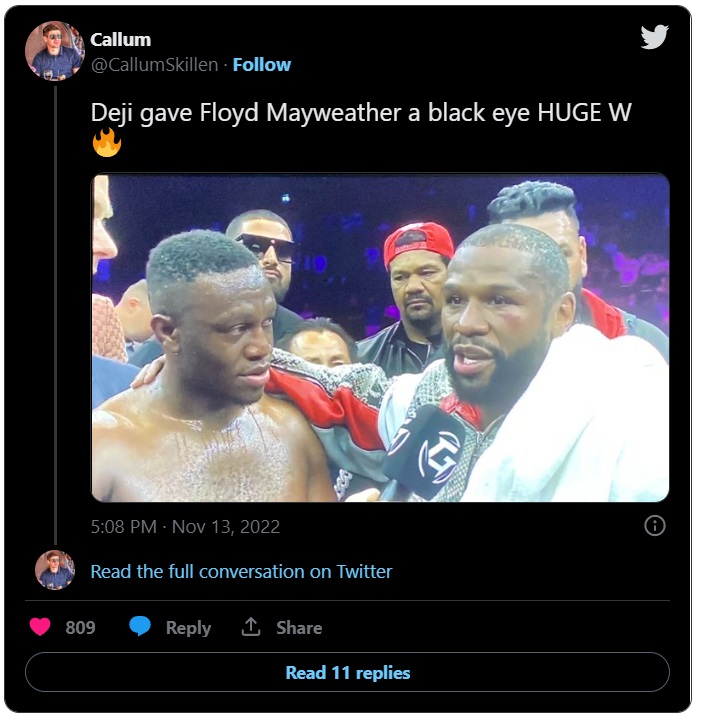 In another tweet after the match Jake Paul attacked Floyd Mayweather's financial situation saying "Floyd is ruining the sport of boxing to pay his unpaid taxes".
Could we see a match between these two in the future?