When it comes to basketball, there is nobody like Michael Jordan. He was a once-in-a-generation talent whose skills on the court were unmatched. His impact on the game was even more impressive, he was one of the driving forces behind the modern NBA. One of his most iconic moments came in the movie Space Jam.
In that movie, Jordan stars as himself and teams up with Bugs Bunny to take on the evil aliens who have taken over basketball. In one of the movie's most famous scenes, Jordan stretches to dunks the ball through the hoop from half court – an action that has become legendary. Now Bol Bol has recreated it in real life, and it's just as amazing all things considered.
Details on How Bol Bol did the Michael Jordan Space Jam Dunk in Real Life
At 7 feet 2 inches with a 7 foot 8 inch wing span Bol Bol is capable of doing things on the court that simply look glitched. A perfect example was how during Magic vs Pistons after driving the baseline Bol Bol stretched his arm out in midair to do the Michael Jordan Space Jam dunk over Isaiah Stewart. As first glance it looks like CGI, but this is real life. If there was any NBA player who could pull this off in real life it was him. This was definitely one of those you have to see it to believe it moments.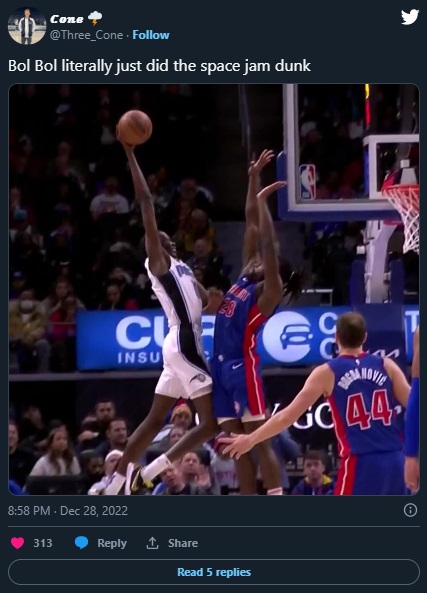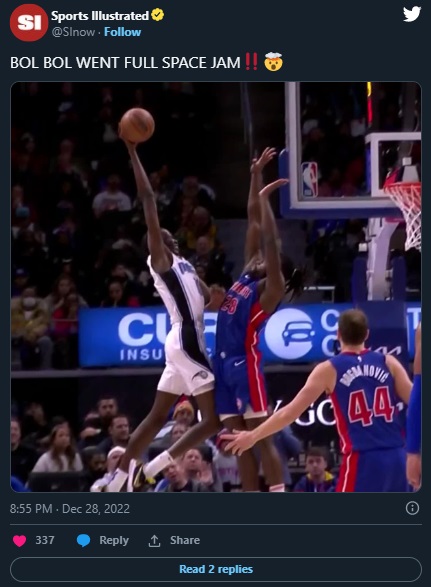 Last season Bol Bol averaged 2 ppg and 1 rpg on 56/25/40% shooting splits. This season he's averaging 12 ppg and 7rpg on 60/40/77% shooting.
Does he have the strongest case for the Most Improved Player award? It's hard to say no after the Space Jam dunk. Lebron is probably happy about it considering what happened between him and Isaiah Stewart last season.