Steve Lacy has been ruling headlines lately due to the crazy things going on during his World Tour so far. Just a few days ago a video went viral of him smashing a fans phone during a concert. Now he's trending again after footage surfaced of a strange situation that developed because of too much of a certain special effect being used during his performance.
A viral video shows Steve Lacy choking on stage because too much smoke effects were being used by the venue. At one point there was so much smoke floating around him that he appeared to completely vanish. As Steve Lacy was coughing and complaining about the stage smoke his fans were singing along to his music seemingly oblivious to what was going on. If there was any bright side to the moment it would be that the crowd knew all the words to his music, which proves they are true fans.
What is Theatrical Stage Smoke Made Of?
In some cases theatrical stage smoke is made of pure water vapor. However, it can also be made from liquid nitrogen or carbon dioxide. When a venue is trying to create the affect of low lying fog that hangs around the stage, the latter two ingredients are often time used to cool the water vapor, which makes it more dense. It's not clear what type of stage smoke Steve Lacy choked on in the video below, but considering how he was coughing it doesn't seem like it was just water vapor, but it's possible.
Social Media Reactions to Steve Lacy Choking on Stage Smoke and Coughing During World Tour Concert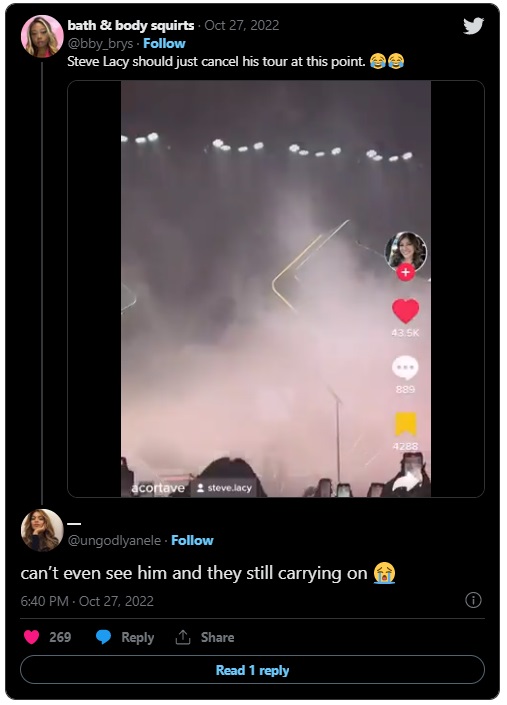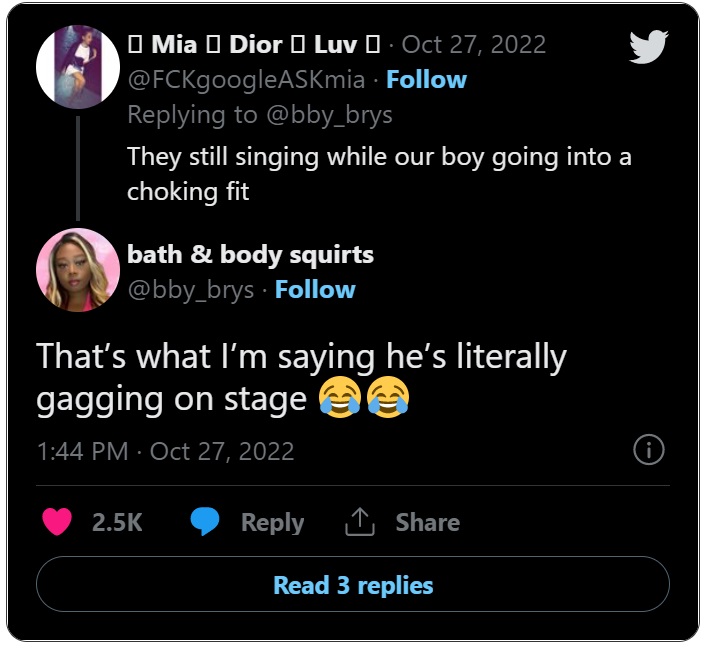 People are urging Steve Lacy to cancel his tour, but it's actually amazing how he continues perform through all the mishaps going on. It shows he is truly passionate about making sure his fans get their money's for paying to see him perform live.