Has an NBA 2K24 boycott officially began? NBA 2K24, the latest installment in the popular basketball simulation game series, has been met with widespread criticism and dissatisfaction from many fans who have requested refunds for the game on the Microsoft Store and PlayStation Store. The game, which was released on September 8, 2023, has been accused of being too focused on microtransactions, pay-to-win mechanics, underwhelming ProPlay implementation, and recycled features from previous versions.
Reasons Why People are Requesting Refunds for NBA 2k24
One of the main complaints from fans is that the game has too many microtransactions that affect the gameplay and progression of the MyCareer and MyTeam modes. Players have to spend virtual currency (VC) to upgrade their attributes, skills, badges, clothing, and cosmetics. However, earning VC through playing the game is very slow and tedious, while buying VC with real money is expensive and tempting. Many fans feel that the game is designed to make them spend as much money as possible on VC, rather than rewarding them for their skill and effort.
Furthermore, fans are also unhappy with the badge regression system, which makes players lose their badges if they don't perform well or use them frequently. This system is supposed to add realism and challenge to the game, but many fans find it frustrating and unfair. Some fans have also claimed that the badge regression system does not work properly, and that they lose badges randomly or for no reason, even after having monster games where they used the badge continuously. They feel the badge regression system is only in the game to make people pay money for the floor-setters, that stops the regression.
Another issue that fans have raised is that the game's new ProPLAY feature, which was advertised as a revolutionary system that uses real NBA footage to create realistic and smooth animations, is not what it seems. Many fans have noticed that the game still moves almost identically to NBA 2K23, and still feels clunky and unresponsive at times. Some fans have also reported glitches and bugs with the ProPLAY feature, such as players sliding on the court, clipping through each other, or performing impossible moves.
Additionally, fans are also disappointed that they can no longer choose a body type for their character in MyCareer mode, and instead have to complete workouts and other activities to achieve the body type they want. This feature is similar to GTA Online's body type system, which many fans dislike. Some fans have argued that this feature limits their creativity and customization options, while others have complained that it is too hard or time-consuming to change their body type. Now you have a bunch of MyPlayers walking around with the gumby build.
Finally, many fans are also complaining that overall the game just seems like a reskinned NBA 2K23, with minor updates that in some ways make the game worse. Fans have pointed out that the game has reused assets, graphics, menus, sounds, commentary, and gameplay elements from previous versions. For example the rim hanging glitch is still in the game, along with the fake body blocks. Fans have also criticized the lack of innovation, variety, and improvement in the game modes, especially MyGM and MyLeague.
As a result of these issues and more, many fans have expressed their dissatisfaction with NBA 2K24 on social media platforms such as Reddit, Twitter, YouTube, and Steam. As you'll see below some fans have even shown proof that they have requested and received refunds for the game on the Microsoft Store and PlayStation Store, as a form of boycotting or protest. Some fans have also suggested that they will switch back to NBA 2k23, or try playing NBA Live 19, which still has active userbase.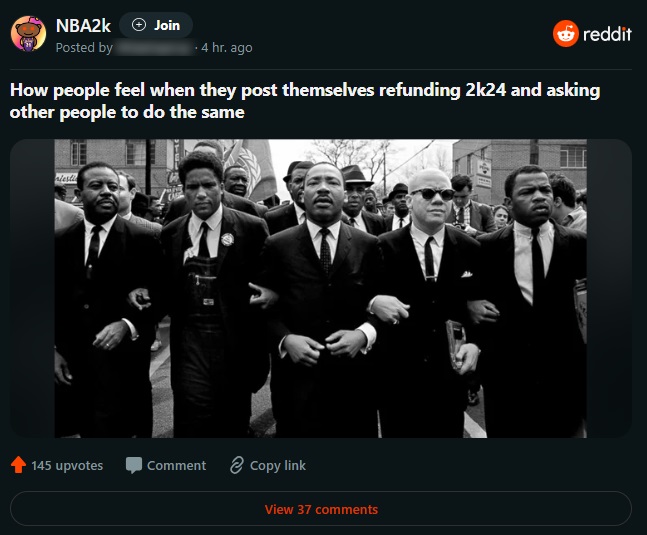 NBA 2K24 has received mostly negative reviews from critics and users alike. Based on user reviews the game currently has an average score of 3.1 out of 10 on IGN, and a 2.7 out of 10 on Metacritic. It's really sad how far the franchise has fallen after the masterpiece that was NBA 2k20, which still remains the most perfect basketball game ever made.
NBA 2K24 is facing a serious backlash and a loss of trust from its fanbase. It remains to be seen whether they will be able to fix the issues, and restore the reputation of the NBA 2K franchise.