If you are a fan of NBA 2K MyTEAM, you probably know who Shake4ndBake. He is one of the most popular and influential content creators for the game mode, with over 600K subscribers on YouTube and over 100K followers on Twitter under the username @ItsShake4ndBake. For almost a decade, he has been making videos and streams showcasing his gameplay, tips, reviews, and reactions to the latest cards and updates in MyTEAM.
Why Is Shake4ndBake Retiring from Making NBA 2K MyTEAM Content?
Sadly, all good things must come to an end. On May 30, 2023, Shake4ndBake announced on Twitter that he is retiring from being a full-time content creator and selling his house due to financial difficulties. It appears the money he was making was from making fire content for his fans wasn't enough to support the growing changes in his personal life. In a heartfelt and emotional post, he wrote:
The airline says that the survey is necessary to update the average weights of passengers, crew and cabin bags, which are used by pilots to calculate the weight and balance of the aircraft before takeoff. The airline says that it weighs everything that goes on the aircraft, from the cargo to the meals onboard, to the luggage in the hold.
"Hello everyone, wanted to provide an update on the future & what's happening moving forward! Been a few tough months, life hasn't been like it used to. I just want to take a second to thank everyone whose shown up to the recent Livestreams & YouTube Videos its been a fun journey. Unfortunately my living situation is going to change as its become difficult to maintain being a full time content creator in my current situation".
He continued saying, "I'm starting the process of selling my house and I'm not sure what will come next. There may be some occasional streams between here and there before the process is complete, but It's going to be inconsistent as I prepare for the next part of life whatever that may be. Currently I don't know where I'll be going next, going to discuss my options with my family and take it as it comes, I'm very lucky to have them help with this process that would be much different without them. I do plan to take a bit of a break from socials, so don't expect too many posts on those moving forward until I've got some things figured out".
He finished his lengthy farewell messaging adding, "I will do my best to update my discord where I can because I know a lot of you guys do care and will be curious. Its a humbling experience failing to make it work here after a Decade of being Full Time and having owned my house for 6 Years now I'll be starting over on my adult life. I do still hope I can find a way to make Streaming & Content Creation a viable option even on a part time basis in the future, for now though just focusing on doing what I need to move forward. I definitely have felt a lot of stress over the past few years trying my best to make things work but that has come to a tipping point. Sorry for making you read all this s*** if you cared enough to".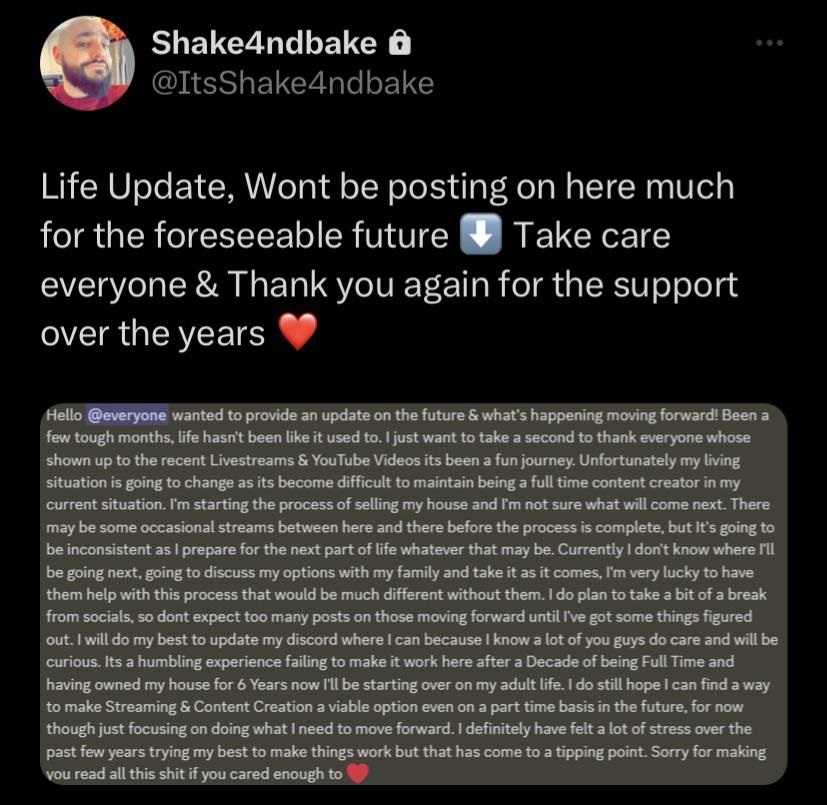 The news came as a shock and a disappointment to many fans and fellow content creators who expressed their support and gratitude for Shake4ndBake in the replies. Many praised him for his dedication, passion, honesty, and humor that made him stand out among the MyTEAM community. Some also shared their favorite memories and moments of watching his videos and streams over the years.
Shake4ndBake's retirement is not only a loss for his fans, but also for the MyTEAM game mode itself. He was one of the most vocal and influential voices in giving feedback and suggestions to improve the game mode for all players. He was also one of the first content creators to participate in the MyTEAM Unlimited Tournament*, a competitive event that rewards the best players with cash prizes and exclusive cards. He made it to the finals twice, in NBA 2K20 and NBA 2K22, but unfortunately did not win either time.
Shake4ndBake's legacy will live on in the hearts and minds of many MyTEAM players who grew up watching his content and learning from him. He was not only a content creator, but also a friend, a mentor, a leader, and a legend in the MyTEAM community. We wish him all the best in his future endeavors and hope that he will find happiness and success wherever he goes.