If you have been following the music charts lately, you might have noticed a surprising entry at the top of the iTunes list. A rap song called "Boycott Target" by Forgiato Blow and Jimmy Levy has surpassed the likes of Taylor Swift and Luke Combs to become the number one song across all genres. But what is the story behind this song, why is it causing so much controversy, and why has it also garnered so much support?
The Timeline To 'Boycott Target' Reaching #1 on iTunes Charts Allegedly
The song was released on May 25 in response to Target's new Pride Collection, which features LGBTQ-themed clothing and accessories for children. The song's lyrics accuse Target of having an LGBTQ "agenda" that has gone "too far" and of "targeting" kids with "demonic" and "sexualized" products. The song also claims that Target has lost $10 billion in market value due to the backlash from conservative customers.
The song's music video, which was filmed in a Target store, shows the rappers pointing out various items from the Pride Collection, such as books, shirts, and bathing suits. The video also includes clips of news reports and tweets criticizing Target for its LGBTQ-friendly merchandise. The video has gained millions of views on YouTube and Twitter, where it has been shared by prominent figures such as Rep. Marjorie Taylor Greene, R-Ga., who praised the song for "showing who has the real buying power" and "shifting the culture".
However, not everyone is a fan of the song. Many people have expressed their outrage and disgust at the song's homophobic and transphobic messages, calling it hateful, ignorant, and harmful. Some have also questioned the accuracy of the song's claims, pointing out that Target's stock price has not dropped significantly and that its Pride Collection is not aimed at children but at teens and adults. Some have also accused the rappers of exploiting a sensitive issue for publicity and profit.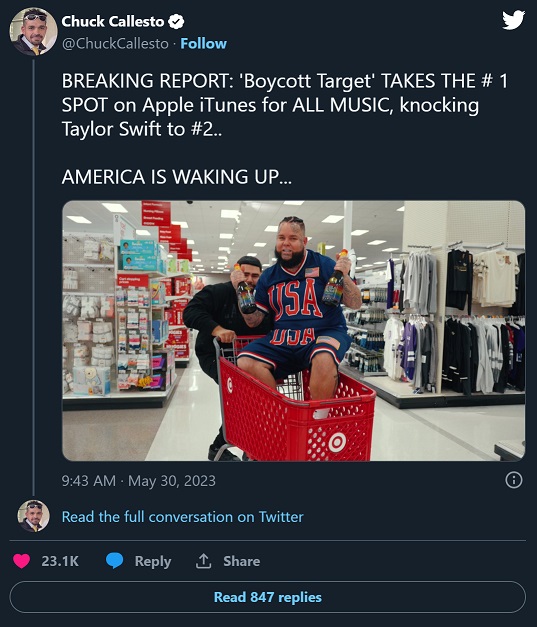 Forgiato Blow, whose real name is Kurt Jantz, is a staunch supporter of former President Donald Trump and a self-proclaimed "Mayor of Magaville". He has been banned from Instagram and Facebook for his political views and has previously released songs such as "Trump Train" and "MAGA Anthem" . He told Fox News that he made the song to "stand up for the children" and to exercise his free speech rights. He also claimed that his song was being "shadow-banned" by iTunes, meaning that it was being blocked or hidden from some users.
Jimmy Levy, who sings the chorus of the song, is a singer-songwriter who has collaborated with artists such as Pitbull and Flo Rida. He told Newsmax that he joined the project because he believes in "freedom of expression" and that he does not hate anyone but wants to "protect our kids from being brainwashed". He also said that he was surprised by the song's success and that he hopes to inspire more people to speak their minds.
The song's popularity and controversy reflect the ongoing cultural divide in America over LGBTQ rights and representation. While some see Target's Pride Collection as a sign of progress and inclusion, others see it as a threat and an imposition. The song also raises questions about the role of music as a form of protest or propaganda, as well as the responsibility of artists and platforms to address social issues.
What do you think of the song? Do you agree or disagree with its message? How do you feel about Target's Pride Collection?