The 2023 NFL Draft was full of surprises, but none more shocking than the appearance of Anthony Richardson's 13-year-old brother, Cory, who sported a neck tattoo and a very deep voice. Anthony Richardson, the former Florida quarterback who was selected by the Indianapolis Colts with the fourth overall pick, brought his younger brother along to Cleveland for the big night.
Anthony Richardson's 13 Year Old Brother's Neck Tattoo Shocked Social Media
The two brothers wore matching outfits, and apparently also have matching voices, but what caught everyone's attention was Cory's neck tattoo, which appears to be a religious cross. The tattoo was clearly visible as he was interviewed on stage after the 4th draft pick announcement. Many viewers were stunned to see the permanent ink on a young teenager's skin.
Cory's voice also raised some eyebrows, as he sounded much older than his age. In an interview with NFL Network, Cory said he was proud of his brother and excited to see him play for the Colts. He also revealed that he plays football himself, and hopes to follow in Anthony's footsteps someday. Clearly he seems matured beyond his years, almost like a grown man stuck in kid's body.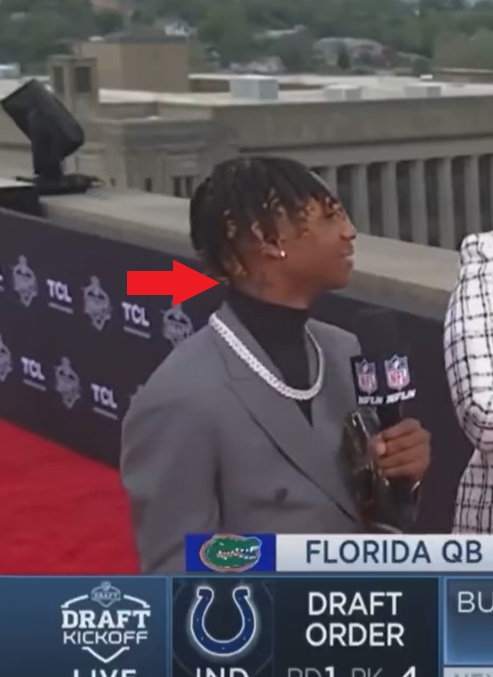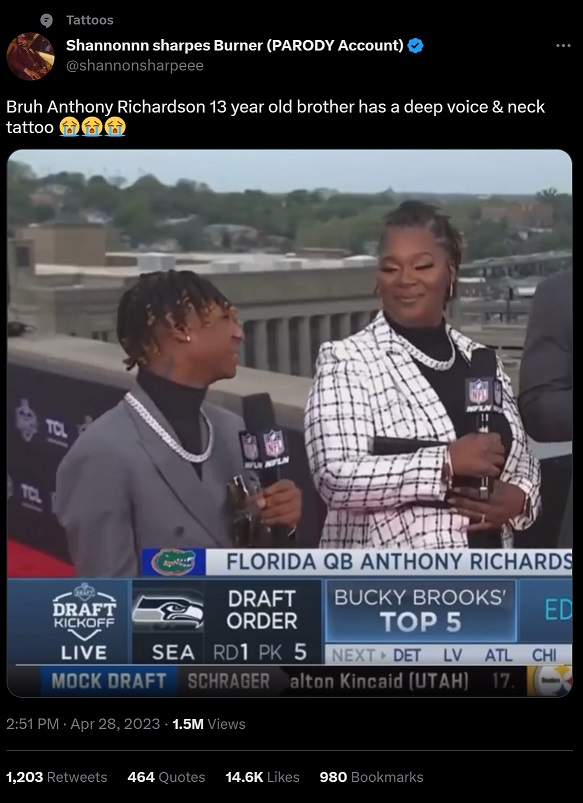 The internet was buzzing with reactions to Cory's appearance, with some praising him for his confidence and loyalty, and others questioning his parents' decision to allow him to get a tattoo at such a young age. Some even wondered if Cory was really 13, or if he had lied about his age.
Getting permanent ink on your skin before your fully grown is never a good idea, especially in a hard to cover area like your neck. Hopefully he makes it as an athlete, because the neck tattoo might limit his job opportunities.