The internet is a truly amazing place, especially when it comes to creating memes. Recently, the world was treated to a hilarious series of memes featuring Shannon Sharpe, the Hall of Fame football player and current FS1 analyst. The memes were based on a picture captured during a heated fight involving Sharpe, Ja Morant, his father Tee Morant, Steven Adams, and Dillon Brooks.
Shannon Sharpe Album Cover Memes Take Over Social Media
It all started during the Lakers-Grizzlies game on Friday, January 20th at the Crypto.com Arena. During the game, Brooks and LeBron James were battling for position while James was posting Brooks up in front of Sharpe's seat. This led to a verbal spat between Sharpe and Brooks, which quickly escalated into a full-blown altercation involving Ja Morant, Steven Adams, and Ja's dad Tee Morant. The whole incident was caught on camera and soon went viral, with many people creating memes featuring the photo of the altercation.
The memes quickly spread across the internet, and soon people were creating album covers featuring the photo of the altercation. The meme-makers used the photo to create funny album covers for Shannon Sharpe himself. The memes were a hit on social media, and quickly gained traction across the internet. People were amused by the meme-makers' creativity, and used the meme to make light of the situation. The meme-makers also used the meme to address the issue of sportsmanship, and the consequences of not maintaining a level head while attending a professional sporting event.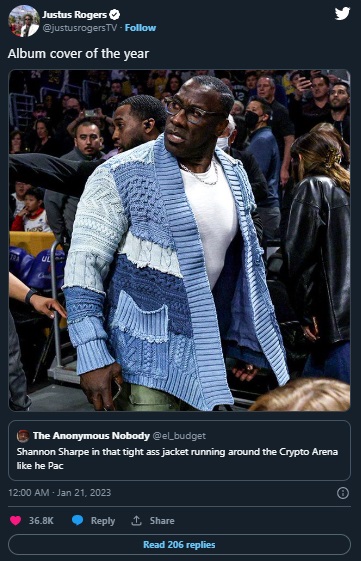 The meme-makers' creativity knows no bounds, and the Shannon Sharpe album cover memes were a great example of this. The memes were funny and clever, and they used the shock value of the photo to create something truly unique. It's a reminder that even the most serious situations can be made light of, and that's why the meme-makers' creativity is so appreciated.