The Kyrie Irving situation is coming to an end in terms of his suspension, but Nets are facing a whole new development due to the strange actions they took against him. The drama all started when Kyrie posted a wordless tweet that contained a link to a documentary on Amazon called "Hebrews to Negroes: Wake up Black America". This was a movie that Shaq played in his public movie theatre back in 2019, and faced no backlash for. The media began calling Kyrie anti-Semitic, which he immediately denied being in a tweet that explained he meant not harm, and respects all religions.
People in the media then accused Kyrie Irving of saying "hateful" things, when the tweet in question literally had no words in it. Still till this day there is no footage of Kyrie Irving saying anything anti-Semitic, yet the media continued to accuse him of saying things that are. In response to the false accusations Kyrie Irving did a press conference where he denied being anti-Semitic while explaining again that he didn't mean to offend anyone, and also didn't agree with everything in the documentary. Despite the fact he clearly apologized during that interview and in a tweet, the media claimed he refused, which led to the Nets suspending him on the same grounds. The video and tweet below happened before the suspension.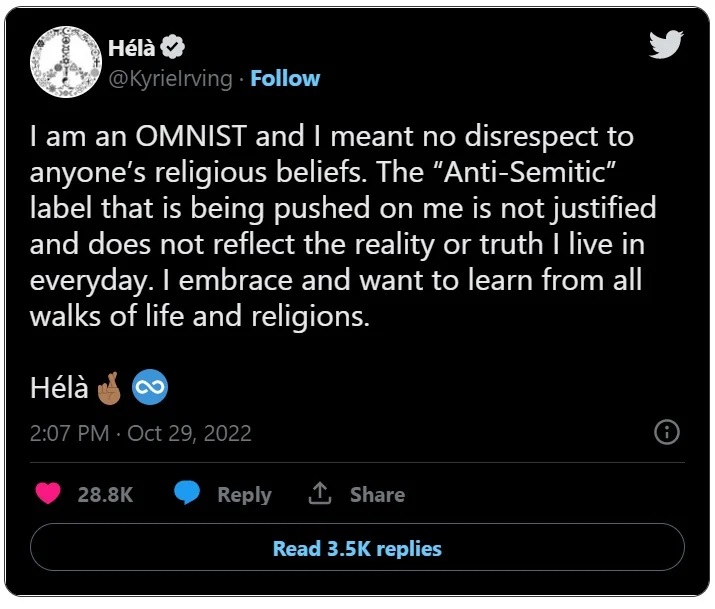 The "Hebrews to Negroes: Wake Up Black America" Documentary Showing at Shaq's Cityplex 12 Movie Theatre Made Kyrie's Suspension More Mind Boggling
Kyrie Irving's suspension became even less justified to the general public when social media discovered that one of the sports media personalities who went hardest at tearing down Kyrie with criticism was allegedly promoting and profiting off the film in the past. As you'll see below the 'H2N' documentary that Kyrie Irving was suspended for posting a link to played at Shaq's Cityplex 12 Movie Theatre in 2019. The venue located in Newark, New Jersey was bought by Shaq in 2012. This was the same guy that called Kyrie Irving an "idiot" on Inside the NBA for Tweeting the link.