Should Lebron James be allowed on the court during Highschool basketball games, while other parents generally can't be? This question is a major topic of conversation after an angry coach reacted Lebron James coaching Bronny and talking to players on the court during a high school basketball game against his old high school St. Vincent-St. Mary.
The footage shows the moments Lebron James was standing on the court with Bronny, while all other parents remained on the sidelines. Security looked on not saying a word. This seems like special treatment to the upset coach, because most high schools have strict rules prohibiting parents from entering the court.
Does that set a bad precedent? Take a look at this coach's reaction Lebron James talking to Bronny on the court.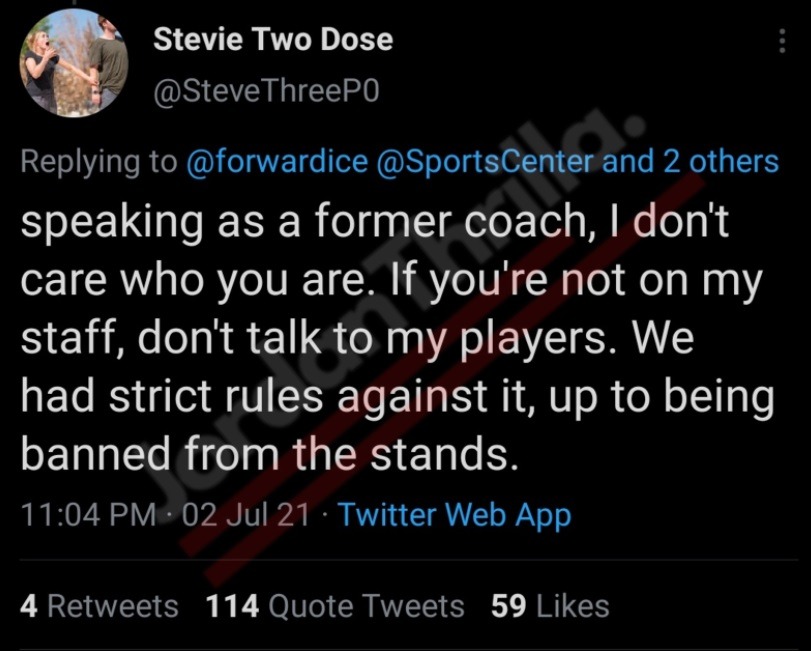 Here is the video he is ranting about.
LeBron James coaching up Bronny at the half. pic.twitter.com/Yj4DOow1zM

— Camryn Justice (@camijustice) July 3, 2021
While you could argue that Lebron James should get special treatment considering his sons star power, and his superstar status in the NBA world, it's also easy to see that the coach has a valid gripe.
Lebron probably is breaking some rules by walking onto the court to talk with Bronny and his teammates, and there are probably some parents who are quietly not happy about it. However, it's highly unlikely that anyone is going to stop Lebron James from playing by his own rules.
The privilege of being a living a legend.
Author: JordanThrilla Staff