The NBA is almost 99% vaccinated, which many pro-vaccine media outlets claimed would lead to lesser incidents of players catching COVID. However, based on how the NBA season has gone so far NBA players are catching COVID at higher rates than before they were vaccinated. What could be the reason behind this? Conspiracy theorists believe NBA players have VAIDS.
Is COVID Vaccine Giving NBA Players VAIDS?

Details on Conspiracy Theory VAIDS led to 9 Bulls Players Testing Positive for COVID-19
This season has been plagued with COVID outbreaks on teams that are 100% vaccinated. Most recently Charlotte Hornets, Nets, Lakers, and Bulls fell victim. It was recently reported that 9 Bulls players are in health and safety protocols, with Zach Lavine being the latest one to test positive for COVID-19. This adds to the long list of vaccinated NBA players who have caught COVID this season. There is even rumors of the NBA season being paused.
Conspiracy theorists believe NBA players are suffering from VAIDS, which stands for Vaccine Acquired immunodeficiency Syndrome. 9 vaccinated Bulls players testing positive for COVID-19 is just strange, along with all the other outbreaks on fully vaccinated teams.
Could it be possible the vaccinated NBA players have VAIDS?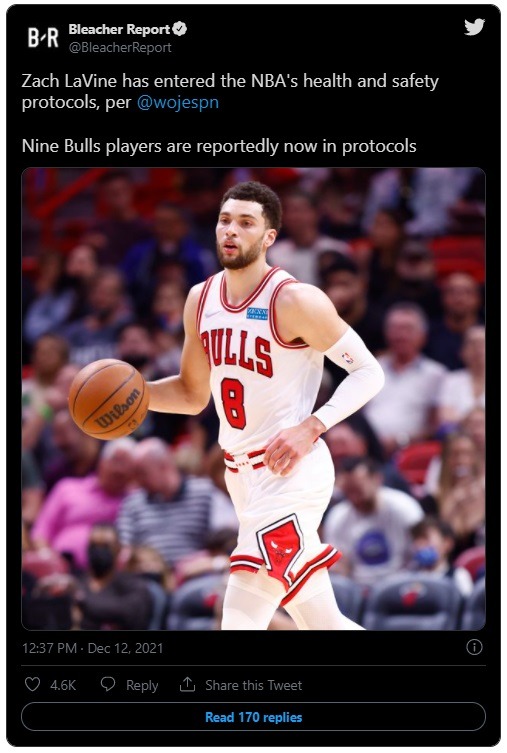 What is VAIDS (Vaccine Acquired immunodeficiency Syndrome)?
VAIDS is a fancy name for immune erosion that can occur after a vaccine mis-trains the immune system to recognize a virus. What happens with people who have VAIDS is that when a vaccine wears off their immune system's natural defenses are unable to properly protect itself from a virus the vaccine targeted.
In the case of mRNA COVID Vaccines some doctors claim that they mis-train the immune system to recognize only all a small portion of the COVID Virus spike protein. As result even a slight variant of COVID is able to mitigate the antibodies created by the vaccine, and the immune system is left more susceptible to COVID than a person who is unvaccinated.
A perfect example of this is a recent Lancet study that compared 1.6 million vaccinated and unvaccinated people in Sweden over the course of 9 months. The study showed after 6 months people who were vaccinated were more likely to catch COVID-19 than an unvaccinated person. This could mean that once the COVID-19 vaccine antibodies wore off the immune systems of a vaccinated person were damaged, and couldn't work at the same efficiency as the immune system of an unvaccinated person in terms of preventing COVID.
There's also more evidence of COVID-19 possibly causing VAIDS in some people, when you look at recent data from the UK PHE COVID Vaccine Surveillance Report. Based on the UK PHE data seen below it shows that in some groups fully vaccinated people are twice as likely to catch COVID than an unvaccinated person.
This could be because in those fully vaccinated people the COVID-19 vaccine has worn off leaving them with VAIDS, which can only be fixed by giving them a booster shot. That works out for companies like Pfizer and Moderna, because now you have people whose immune systems need their vaccines to work properly. Essentially they may have created millions of life long customers.
Take a look at this chart below from the UK PHE Surveillance report from back in October. You will see that in the age groups of people most vulnerable to COVID, the fully vaccinated are twice as likely to catch COVID in comparison to their unvaccinated counterparts.