Is the NBA racist, in terms of how "random" drug tests are carried out? Recently, Memphis Grizzlies star Ja Morant has been vocal about the NBA drug testing him too often. On Twitter he wrote, "Been drug tested like 6 times this season. I walked in the arena and found out I got another one today". His tweet quickly sparked a wave of reactions on social media, with many users accusing the NBA of being racist and targeting black players with drug tests.
Morant himself has been vocal about the issue, insinuating that he thinks the league is targeting him, because of his superhuman jumping powers. Many people believe that the league is trying to figure out what makes such an incredible feat of the human body possible, and that he is being targeted as a test subject, which could be considered racism in theory.
The issue has sparked a heated debate on social media, with many users accusing the NBA of racism and discrimination against black players in terms of drug tests. Others have argued that the league is simply following its own protocol, and that Morant is being singled out because of his talent and success. However, that leaves the question as to why a player like Luka Doncic or Nikola Jokic isn't tested as often, or so it seems. Take a look at Ja Morant's drug test complaint, and a few viral reactions about the potential racism conspiracy theory behind it all.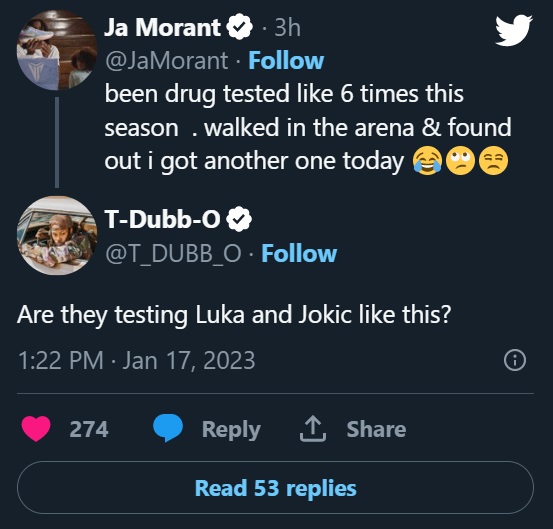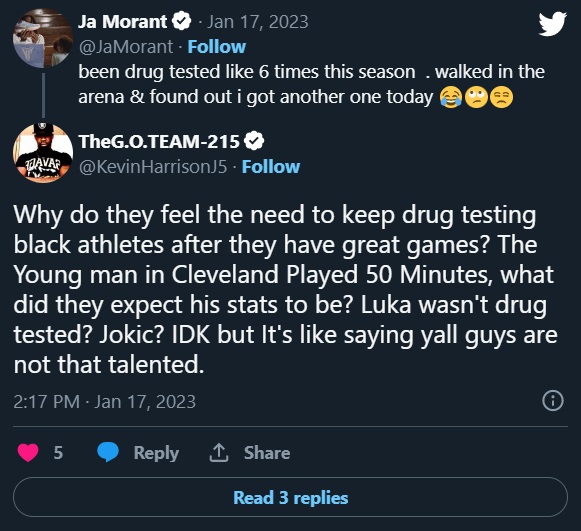 Ja Morant's drug test came a few days after this historic dunk.
Whatever the truth may be, this latest incident has shone a light on the NBA's drug testing policy and has raised questions about the league's commitment to diversity and fairness. It's clear that the NBA needs to do more to ensure that its players, regardless of race or background, are treated equally under the league's rules and regulations.