A dark cloud was cast over the Eastern Conference Semifinals when Danny Green was seriously injured by Joel Embiid. Many people are angry about how the injury happened, and place the blame on Joel Embiid flopping down to the court. With the official injury update bearing tragic news, Embiid is the target of discussion once again.
Video of Joel Embiid Injuring Players Trends as Lebron James Reacts to Danny Green Knee Injury Update
According to Shams Charania Danny Green tore his ACL and LCL. The Lateral Collateral Ligament rests on the outside of your knee, and is responsible for lateral stability. It's not often that athletes injure this ligament with most knee injuries affecting the MCL or ACL. As you'll see in the video of Joel Embiid injuring Danny Green's knee the way he fell was so dangerous, and he didn't even seem to care about people's legs being his way as he flailed to the ground. He fell like he was the only person on the basketball court.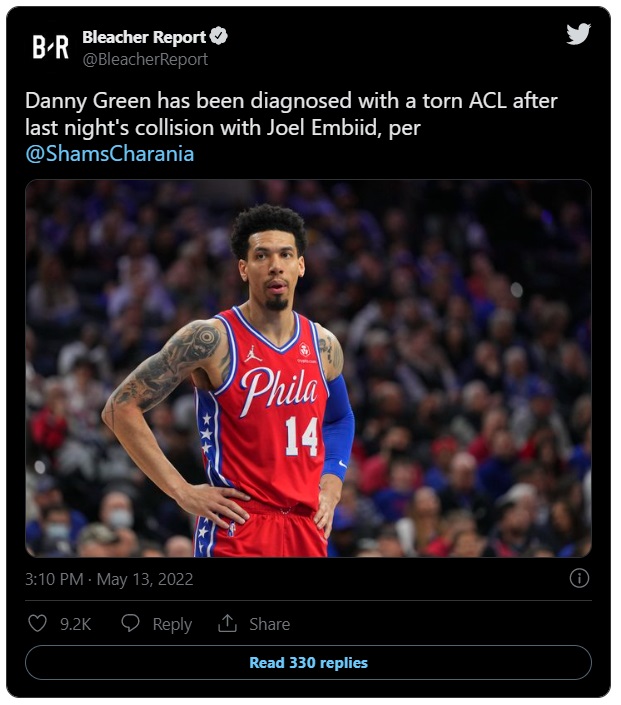 With the sports world focusing on how reckless that play was, a video montage of Joel Embiid injuring people with reckless movements started circulating on social media.
Lebron James reacted Danny Green's knee injury saying, 'Damn man!!! Prayers to my guy Danny Green'.
Did Joel Embiid End Danny Green's Career and Ruin his Guaranteed Contract?
Danny Green will be 35 years old this summer, so coming back from a torn ACL and LCL is going to be super tough. In addition this put Sixers in an interesting contract situation with an aging injured player. Danny Green's contract doesn't become fully guaranteed until July 1. If Sixers choose to guarantee his contract it would entitle Danny Green to an extra ten million.
If Sixers decide not to pay Danny Green the $10 Million, some people feel Joel Embiid should cover his loss since he is the reason the injury happened. With the cap situation Sixers are in from a business standpoint guaranteeing Danny Green's contract would be bad move. Will they go the ethical route or business first route?