Bronny James, the son of NBA superstar LeBron James, is recovering in a Los Angeles hospital after suffering a cardiac arrest during a basketball practice at the University of Southern California (USC) on Monday. The 18-year-old freshman, who is a four-star recruit and a McDonald's All-American, collapsed on the court and was rushed to Cedars-Sinai Hospital, where he was admitted to the intensive care unit. He is now in stable condition, according to a statement from his family.
What is Cardiac Arrest?
Cardiac arrest is a sudden and unexpected loss of heart function, breathing and consciousness. It occurs when the heart's electrical system malfunctions and stops pumping blood to the rest of the body. It is different from a heart attack, which is caused by a blockage in a coronary artery that reduces blood flow to the heart muscle.
Cardiac arrest can be triggered by various factors, such as heart disease or congenital heart defects, drug overdose or poisoning, severe blood loss or shock, hypothermia or extreme heat, respiratory failure or choking, electric shock or lightning strike. Cardiac arrest is a medical emergency that requires immediate treatment with cardiopulmonary resuscitation (CPR) and defibrillation (an electric shock to the heart) to restore normal heart rhythm and blood flow. If not treated within minutes, it can cause brain damage or death.
How Old Trevor Sinclair Footage is Fueling the Bronny James Cardiac Arrest Side Effect Conspiracy Theory
The exact cause of Bronny James' cardiac arrest is still unknown and under investigation. According to reports, he collapsed during a practice session at USC's Galen Center around 9:30 a.m. on Monday. The USC medical staff was able to treat him on site and take him to Cedars-Sinai Hospital, where he was admitted to the ICU.
Some sources have speculated that Bronny James may have had an undiagnosed heart condition that triggered his cardiac arrest. Others have suggested that he may have been using human growth hormone (HGH) or other performance-enhancing drugs (PEDs) that may have affected his heart.
However, another theory that has emerged online is that Bronny James' cardiac arrest may have been caused by a rare side effect of the Covid-19 vaccine. According to this conspiracy theory, Bronny James had received one or two doses of the Pfizer-BioNTech or Moderna vaccine, which are based on messenger RNA (mRNA) technology, and developed myocarditis or pericarditis as a result. A few years ago Lebron confirmed that Bronny got the COVID vaccine in a post on twitter.
In the past there has been a statistical link found between an increase in heart related incidents in sports after the COVID vaccine was made mandatory. For example before 2021 and vaccine mandates, soccer players collapsing on the field was an extremely rare occurrence, but it has became much more common over the past three years. According to a report from Dr. Yaffa Shir-Raz, cardiac deaths on the FIFA soccer field increased by 5 times the normal rate. That didn't include soccer players like Adama Traore who luckily survived a cardiac incident, which would make the increase even greater.
In 2021 during the Live Broadcast John Fleck's collapsing incident, TalkSPORT cut off Trevor Sinclair's feed when he asked if John Fleck took the COVID Vaccine prior to his heart issue. It was similar to how ESPN cut off Jay Williams when he attempted discussing how some Nordic countries banned the Moderna Vaccine for people 30 years and younger due to studies showing adverse heart reactions were happening more often than initially reported, although still a relatively rare side effect.
Since TalkSport cut Trevor Sinclair's live feed asking about COVID vaccines being linked to soccer players collapsing from heart issues, he took to Twitter to make sure his voice was heard. In his statement Trevor Sinclair said, "Everyone I speak to about these heart problems suffered by footballers (which worryingly seem to be happening more regularly) are they linked to covid vaccines or not??".
Of course his tweet went viral, because that was an important question that would be beneficial for society to know. While he was focusing on soccer players, conspiracy theorists believe that could also be connected to basketball athletes like Bronny James as well in theory. They think that the media trying to silence Trevor Sinclair back then is proof that COVID vaccine is connected to athletes having cardiac arrest, and doctors are aware.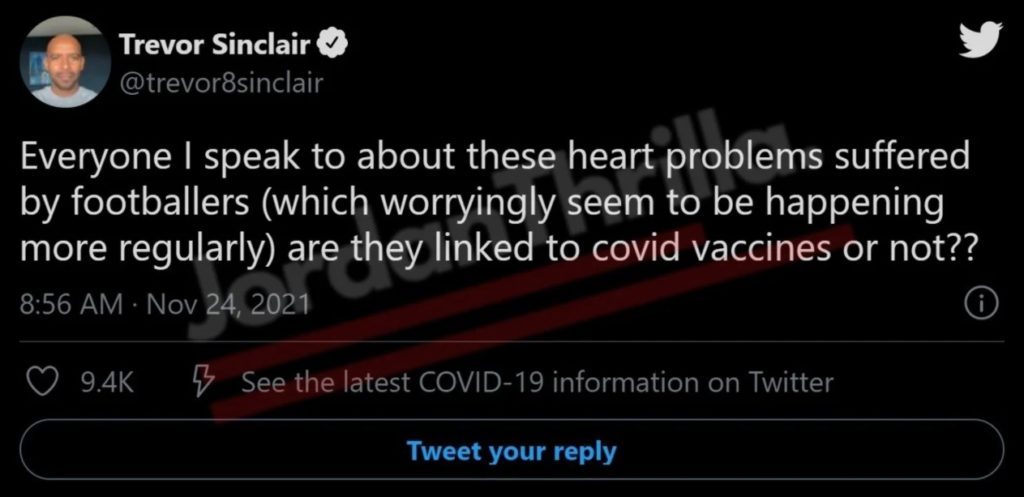 Doctors such as Armin Koroknay have made videos where they show how the COVID vaccine allegedly changes the blood structure of human being almost instantly, making them more prone to things blood clots, and heart related issues.
NBA player Brandon Goodwin claims the COVID Vaccine ended his career, and the NBA told him to keep quiet about it.
At the moment there is no concrete evidence that Bronny James had myocarditis, pericarditis, or any blood clotting issues after Covid-19 vaccination. However, it's very unusual for a seemingly healthy young athlete to suffer cardiac arrest without having any prior condition.
However, even if doctors do discover that the COVID vaccine was linked to Bronny having cardiac arrest, that information would probably never be made public, so we may never know.