Ice Spice, the rising rapper who has taken over TikTok and the Billboard charts with her catchy songs, has become the subject of a viral meme that compares her to Beavis, one of the main characters from the cartoon Beavis and Butt-head.
Who is Ice Spice?
Ice Spice is a 23-year-old rapper from the Bronx, N.Y., who rose to fame after her single "Munch (Feelin' U)" blew up on TikTok last summer. The song, which features the lyrics "You thought I was feeling you?", has been used in millions of videos on the platform, often as a way to reject someone or something.
Ice Spice, whose real name is Isis Gaston, has since released more songs that have gained popularity online and offline, such as "Bikini Bottom", "In Ma Hood" and "Boy's a liar Pt. 2" with PinkPantheress. She has also signed with Capitol Records and received cosigns from celebrities like Drake, Lil Nas X and Doja Cat.
Ice Spice is known for her distinctive look, which includes orange curly hair, colorful makeup and outfits, and a tongue piercing. She has said that she came up with her stage name when she was 14, when making a finsta account (a secondary, more personal Instagram account) simply because "ice" rhymes with "spice", and she loves spicy food.
Who is Beavis?
Beavis is one of the main characters from the cartoon Beavis and Butthead, which aired on MTV from 1993 to 1997 and was revived in 2011. The show follows the misadventures of two teenage delinquents who are obsessed with heavy metal music, junk food and television.
Beavis is the blond-haired one who wears a Metallica T-shirt and braces. He is often seen laughing maniacally, making crude jokes and comments, and saying his catchphrase "Heh heh heh". He is also prone to violent outbursts and hallucinations when he consumes large amounts of sugar or caffeine.
Beavis and Butthead was created by Mike Judge, who also voiced both characters. The show was controversial for its crude humor, violence and sexual innuendo, but also gained a cult following and critical acclaim for its satire of American culture and media.
How did the Comparison Between Ice Spice and Beavis Start?
The comparison between Ice Spice and Beavis started when someone posted a picture of Beavis wearing makeup and an orange hair wig side by side with Ice Spice. The picture was meant to poke fun at Ice Spice's appearance, and show how similar she looks to Beavis. They were even making the same mannerism with their mouth in the photo.
Many people agreed with the comparison and found it hilarious, while others defended Ice Spice and called it mean-spirited and disrespectful.
The meme also spread to all social media platforms, such as Instagram, Reddit and TikTok. Some users made videos of themselves reacting to the picture or singing along to Ice Spice's songs while wearing a Beavis mask or wig. Others made edits or collages of Ice Spice and Beavis side by side or swapped their faces.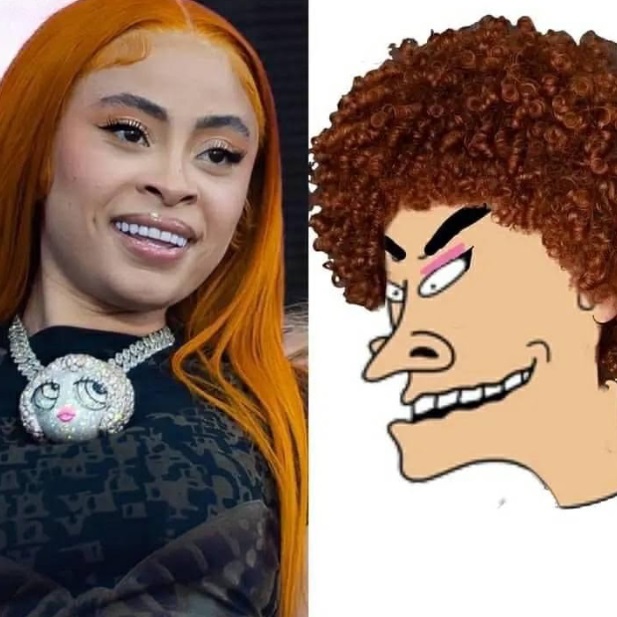 Ice Spice has not publicly commented on the meme, or the comparison between her and Beavis. However, she has shown that she has a good sense of humor, and does not take herself too seriously in her interviews and social media posts, so she's probably taking the jokes in stride.
Do you think Ice Spice looks like Beavis, or are people just tripping?