Who shot Neek Bucks in 2023? The Harlem rapper, who is known for his gritty and realistic portrayal of life in the streets, has revealed that he was shot recently. The rapper posted a picture on his Instagram page @neekbucks showing himself in a hospital bed sticking up his middle finger.
Details About Where Neek Bucks Was Shot
In the caption, he explained that he was shot once in the chest, and walked out the hospital the same day. He wrote, "One to the chest, and walked out that b***h the same day. The doctor said I'm lucky. God is the greatest. New music on the way".
Neek Bucks, whose real name is Unique Herbert, has been making waves in the rap scene with his mixtapes and collaborations with artists like Jim Jones.
He is also known for surviving a bullet in his head in 2011, which he did not realize until three years later when he went to the hospital for severe migraines. He used that near-death experience as a motivation to pursue music more seriously, and released his Here For a Reason EP in 2014, with cover art that pictures Neek's actual X-rays that shows shrapnel in his head.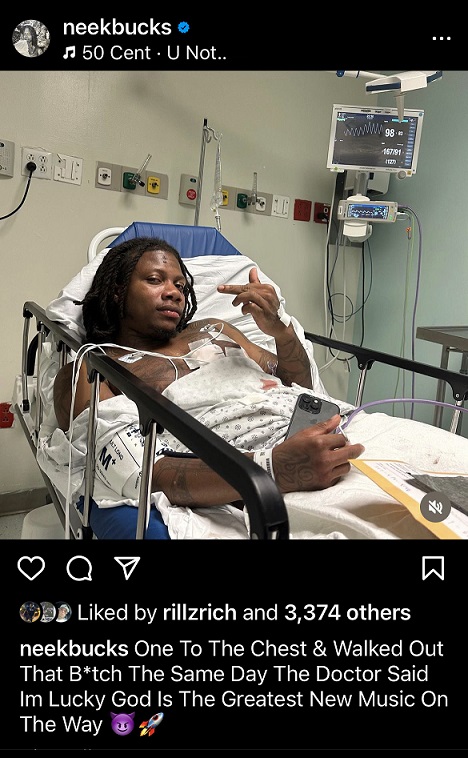 At the moment, there are no details on why Neek Bucks was shot, where he got shot, and who the shooter might be. The rapper has not commented further on the incident.
However, fans and fellow artists have shown their support and prayers for Neek Bucks on social media, hoping that he recovers fully and continues to make music.
Neek Bucks has announced that he is working on new music, so he must feel very optimistic about making a quick recovery.