King Von was one of the most controversial and influential figures in the rap scene before his tragic death in 2020. Known for his vivid storytelling and ruthless lyrics, he was also a notorious gang member who was allegedly involved in multiple murders. His life and legacy are the subject of a new four-hour documentary titled "King Von: Rap's First Serial Killer", which premiered on YouTube this week.
The documentary is a comprehensive and unflinching exploration of King Von's rise and fall, from his childhood in Chicago's O Block to his meteoric success in the music industry. It features interviews with his family, friends, rivals, collaborators, and critics, as well as archival footage, police records, and court documents. It also examines the social and cultural factors that shaped King Von's worldview and behavior, such as poverty, violence, racism, and trauma.
The Names of Every Person King Von Allegedly Murdered and the Days they Died Were Revealed
The documentary does not shy away from exposing the dark and disturbing aspects of King Von's life and personality. It reveals how he was involved in several shootings and killings, both as a victim and a perpetrator, and how he glorified and rationalized his actions in his music. Perhaps the most shocking revelation was that he allegedly was responsible for the deaths of 10 different people
According the documentary the date of the death and names of every person King Von murdered are as follows: King Doc (4/4/12), Dirty Rell (8/8/12), Modell (10/13/12), P5 (10/30/12), Lil James (12/12/19), Lil Magic (3/28/14), Malcolm Stuckey (5/14/29), KI (4/11/14), Mannmann (6/18/15), and Tyriq (3/19/31). Some time ago court documents leaked, which if real seemingly confirmed why he allegedly murdered the woman named KI aka Gakirah Barnes.
Why Asian Doll's Past Comment is Trending Due to the 4 Hour King Von Documentary
The revelation of all those deaths he possibly caused made many people remember Asian Doll's infamous comment where she bragged about dating people who had at least 3 bodies. In the tweet from 2020 she wrote, "please have at least 3 bodies before you talk to me. Boy I like killers". If the allegations in the documentary are true King Von cleared her requirement by 7 bodies, which is too sad. As the years went by after his death, Asian Doll had a change of heart, and now likes to date a different type of guy.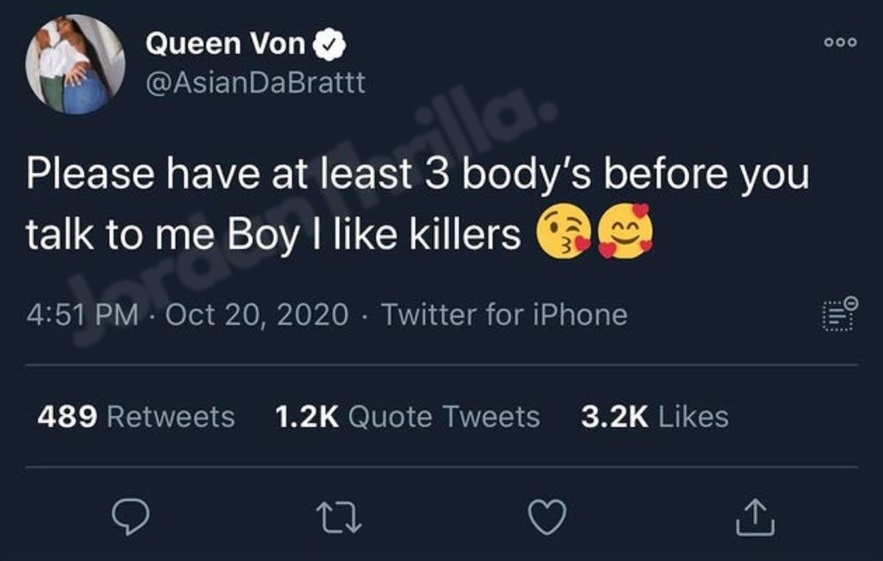 "King Von: Rap's First Serial Killer" is a powerful and provocative documentary that challenges the viewers to question their own morals and values. It does not offer any easy answers or judgments, but rather invites the viewers to form their own opinions and perspectives. It is a must-watch for anyone who is interested in rap music, urban culture, or human psychology.