The first sign of a possible major downfall in DaBaby's rap career just happened. In a viral IG message Dua Lipa cancelled DaBaby after his homophobic and HIV STD comments during his Rolling Loud performance.
In her message Dua Lipa distanced herself from DaBaby saying she doesn't recognize him as someone she worked with. As you may or may not know they have a huge single together called "Levitating", that currently has almost half a billion views on YouTube.
During his Rolling Loud performance DaBaby insinuated that gay people have HIV, and also made derogatory comments about men who give top in the parking lots of his concert. The comments allegedly came after someone threw a bottle at him on stage.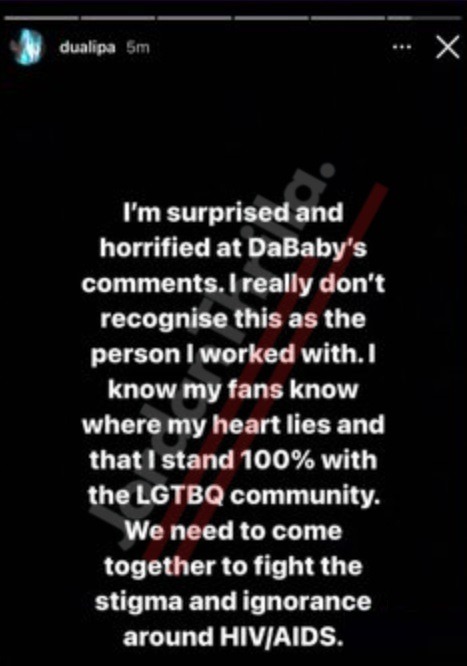 Will DaBaby get Blackballed by the Music Industry?
Throughout history when hip-hop artists attack the LGBTQ community it ends up doing major damage to their careers. DaBaby could find himself struggling to get features, and taken off songs he is already on after the comments he made about gay people. Some people think Dua Lipa cancelling DaBaby is the first sign he is getting blackballed.
What's strange about this situation is that DaBaby allegedly murdered someone at Walmart, beat up people, shot at people, but it was comments about the gay community that seem to be doing the most damage to his career. It seems a bit strange that Dua Lipa had no problems working with him prior to these homophobic comments considering his sketchy past, but now has problem just because he made comments about the LGBTQ community. Business is business though, and she probably has a lot of gay fans.
Author: JordanThrilla Staff