On the Battle Rap scene one of the most well known names was Pat Stay. The Dartmouth, Nova Scotia native was hailed as one of the greatest by popular artists such as Drake. Sadly his life was recently taken in his hometown, and fans are doing all they can to help with his funeral costs.
Details on the Mystery Behind Who Killed Battle Rapper Pat Stay
According to police reports Pat Stay was stabbed to death during an incident that happened in downtown Halifax. When paramedics arrived to the scene Pat Stay was alive, but in critical condition. Sadly they weren't able to save his life. Pat Stay's death was confirmed by his brother Pete Stay on social media. At the moment the person who murdered Pat Stay has not been captured, and is still on the loose. Pat Stay was a legend in the Battle Rap scene, below are two of his most famous battles versus Arsonal and Calicoe.
Details About the Pat Stay GoFundMe
Amidst the sad news of Pat Stay's death a GoFundMe was setup by 6 people to raise money for his family. In a statement on the GoFundMe page titled "Pat Stay's Memorial" they wrote, "We are setting up this fund to help raise money for our fallen brother's family. He has been taken from the world far to soon, and many will be devastated forever. Pat Stay was a very honorable man who was on his way to a bright future. Our heart hurts for his family and friends at this time, so we hope to help ease some of the pain by ensuring his family has help through this process".
As of this writing the Pat Stay GoFundMe has raised $103,825 from 1,200 donors, which has exceeded their goal of $100,000.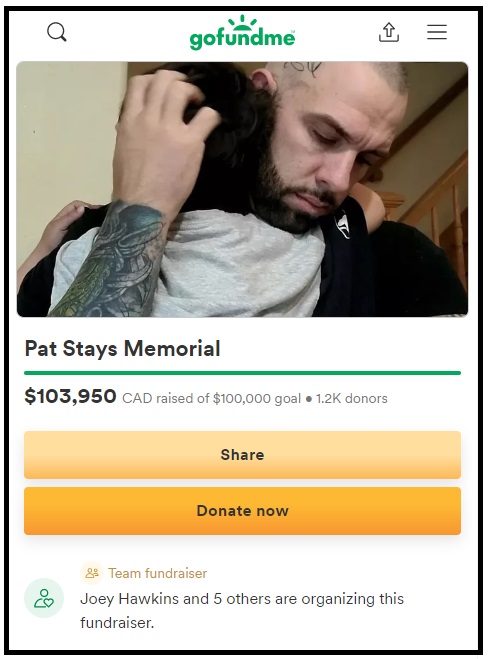 Prayers up for Pat Stay's family.