Some time ago the Black Lives Matter movement came under fire for allegedly exploiting Samaria Rice, who is the mother of Tamir Rice. Now they are caught up in another controversy involving BLM executive Shalomyah Bowers, and his alleged misuse of funds that were considered donations. In a lawsuit filed against him by other Black Lives Matter leaders he is being accused of stealing those funds for personal use.
Did Black Lives Matter (BLM) Executive Shalomyah Bowers Steal $10 Million in Donations? Details on How GNF Responded to Viral Lawsuit
Shalomyah Bowers is a Black Lives Matter executive of their Global Network Foundation (GNF). The lawsuit being reviewed by the Los Angeles County Superior Court was filed by BLM Grassroots, which is separate from their Global Network Foundation, but of the same branch. They are not only suing Bowers, but also his consulting firm.
According to reports before the lawsuit was filed over 300 BLM leaders asked Shalomyah Bowers to resign from his position after discovering his alleged misuse of donation money. However, they claim he continued in his sketchy ways and continued his self dealing practices. In a statement made by Melina Abdullah who founded the BLM Los Angeles chapter she stated they have records proving that Bowers paid himself as much as $2 Million dollars during a single year.
In this legal battle the accusations are not one sided. The GNF Board of Directors responded to the lawsuit denying the allegations, and also made a bold accusation that Melina Abdullah and other BLM leaders were siphoning funds of their own in the form of $10,000 personal stipends each month. That accusation made some people remember the viral situation involving Samaria Rice, and how they allegedly exploited her after she received a $1.78 Million settlement, then didn't help her after she became homeless.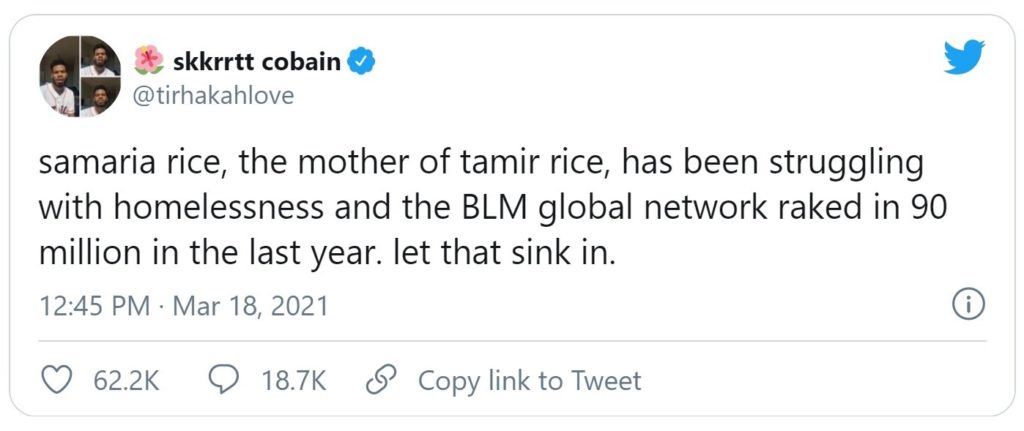 No matter how this lawsuit plays out the fact remains that from the outside looking in there seems to be growing disconnect within the BLM organization, because there seems to be a lot people within the ranks that seem to be doing things for their own personal gain. This could be another case of human greed slowly ruining a movement that should be changing the world.
Hopefully Shalomyah Bowers didn't steal that $10 Million from donators. If he did hopefully all of it is recovered, and used the way it should have been in the first place.