What was a normal peaceful day at the 25th street Subway Station in Brooklyn New York turned into chaos when a mass shooter began a calculated attack. At the moment 29 people are confirmed injured, and 10 of those injuries was the result of a gunshot wound. The good news is that no casualties have been reported so far.
Details on How the Sunset Park Brooklyn Mass Shooter Started the Attack
According to reports and videos, the Brooklyn Subway mass shooter first threw a smoke grenade on the train that filled the entire area with smoke. With visibility on the train low the suspect opened fire on people inside the subway station. 10 people were hit with bullets, and during the chaos that ensued 19 others were injured.
Police Believe the Sunset Park Brooklyn Subway Mass Shooter Used a U-Haul Truck
At the moment the Brooklyn Subway mass shooter is still at large, which is a very scary thought. In an effort to quickly find the shooter Hochul has committed all resources the state has available, and Mayor Adams is doubling the number of transit officers patrolling the NY system. New York has been seeing an increasingly high crime rate recently, even before this mass shooting. The NYPD sent out an alert that the Brooklyn Subway mass shooter used a U-Haul truck with Arizona license plate number AL31408. This is the main lead they have at the moment.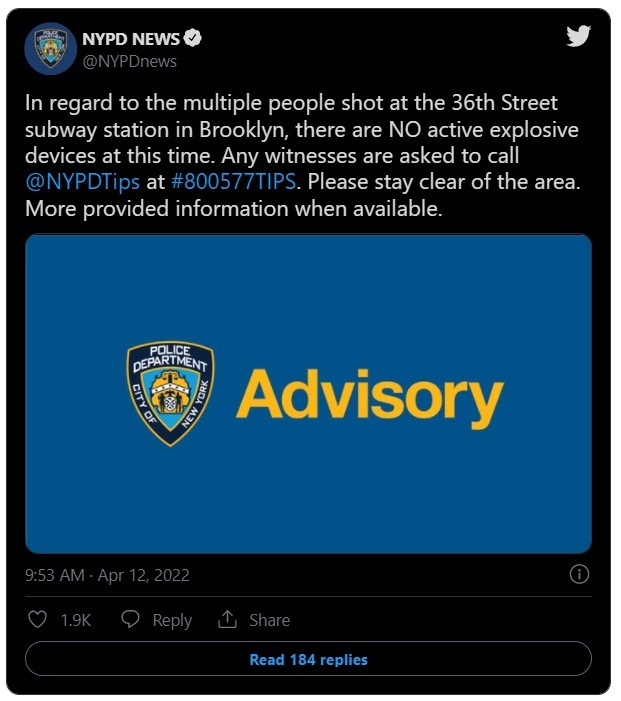 Video of Aftermath of Sunset Park Brooklyn Subway Mass Shooting
Although there were no cameras on the Subway train, there is a Sunset Park Brooklyn Subway mass shooting video that shows the aftermath of what happened. In the footage you can see frightened passengers running out the train that is full of smoke.
Gun violence continues to be a major problem in the United States. Mass shootings happen here more than any other place in the world. It seems strict gun laws like what New York has in place doesn't even help.
Considering the Sunset Park Brooklyn mass shooting happened on train, it's really a miracle that no causalities are being reported. Prayers up for all the victims, and if you're in that area stay safe.
Make sure to be on the look out for a U-Haul truck with Arizona license plate AL31408.