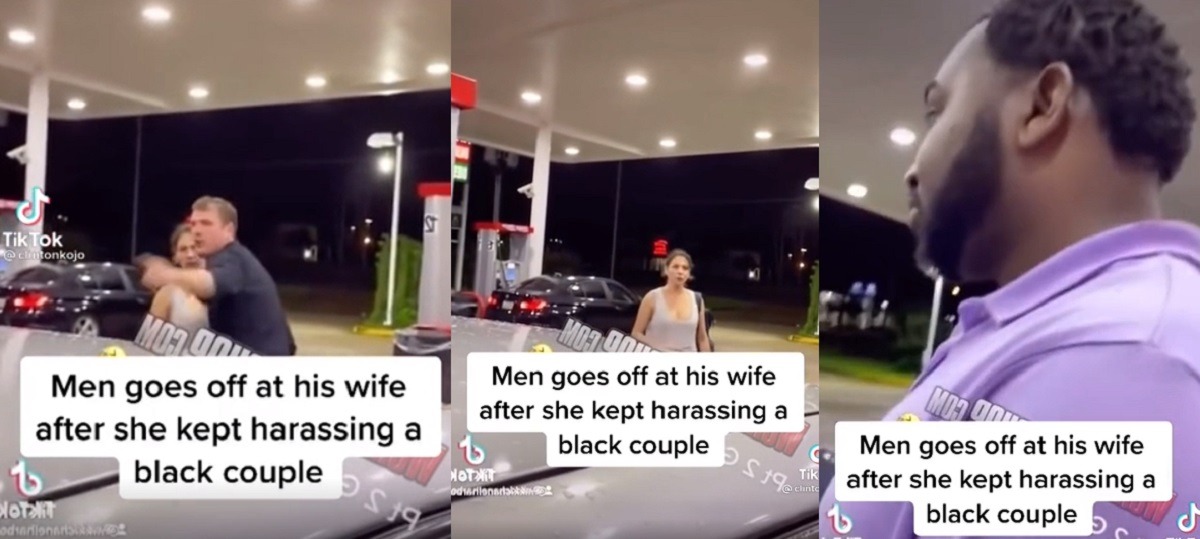 A viral video of racism gone wrong shows how stressful it can be to find out your significant other is racist. A TikTok video shows a white man cursing out his racist wife Erin for harassing a black couple at gas station.
Why Was the Racist White Woman Erin Harassing a Black Couple at Gas Station?
This incident started when the white man's wife accused the black couple of being crack dealers for literally no reason other than the fact they were driving a Buick. They were just pumping gas when she decided to start harassing them. She probably thought her husband would come to her aid, but he came to aid of the black couple.
The white man cursed out his racist wife saying,
"F*** you. Get you stupid a** in he car. You don't him, you don't know her. You don't know anybody here. You are not special".
His racist wife got angry and threw a cup before turning her back in embarrassment as he apologized to the black couple.
Take a look at this white man fighting his racist wife for harassing a black couple.
For Erin being racist for no reason may have ruined her marriage. Her husband is probably going to file for divorce or make her sleep on the couch for the rest of the month.
Prayers up for the Buick car company, because they caught a stray during the video.
Kudos to the black couple for remaining calm, cool, and collected through the whole ordeal.
Author: JordanThrilla Staff