The tragic mass shooting that took place in Maine, claimed the lives of 16 people and injured countless others. Among the victims was Maxx Hathaway, a 35-year-old stay-at-home dad who was killed at Schemengees Bar and Grill in Lewiston, one of the locations that the gunman Robert Card targeted.
A Devastated Family – How Maxx Hathaway's Wife Narrowly Escaped the Mass Shooting
Maxx Hathaway left behind a pregnant wife, Brenda, and two young children, aged 4 and 2. Brenda Hathaway was also at the bar with her husband on the night of the shooting, but left early because their toddler started acting up. She narrowly escaped the same fate as her husband, who stayed late to play more games of pool.
Maxx Hathaway was described by his family and friends as a loving father, a loyal friend, and a fun-loving person who enjoyed sports, music, and video games. He had quit his job as a mechanic to take care of his kids full time while his wife worked as a nurse. His wife Brenda was expected to give to birth within the next few weeks.
Maxx Hathaway's GoFundMe Raises 6 Figures
To help his wife and children cope with the loss and the financial burden, Maxx Hathaway's sister, Kelsey, started a GoFundMe campaign to raise money for expenses such as childcare, groceries, rent, and funeral costs. She urged people to share the GoFundMe link on social media and to donate whatever they could.
In the post she wrote, "Hello As you all know I am Kelsay Hathaway I am from the small but good ol town of Lisbon. I don't really know how to do this or ask for help but I am writing this for my sister in law Brenda who just lost her husband, my brother in the mass shooting that has happened in Maine. Maxx has two daughters with a third one, on the way".
The response was overwhelming. In just a few days, the campaign is almost at the goal of $150,000, raising over $120,000 from more than 2,000 donors. Many of the donors left messages of condolences, support, and solidarity for the Hathaway family.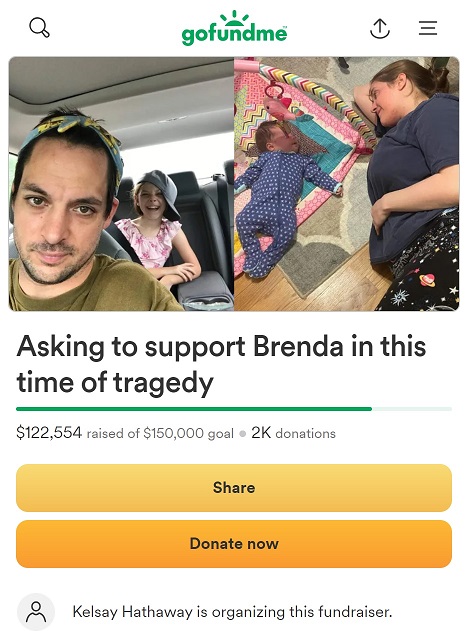 How the Dead Body of Maine Mass Shooter Robert Card Was Found
Meanwhile, the investigation into the mass shooting continues. The suspect, Robert Card, a 38-year-old former Marine who had a history of mental health issues and domestic violence, was found dead in the woods near the Androscoggin River in Lisbon Falls. He had apparently shot himself after fleeing from the police.
Card had gone on a rampage across four towns in Maine, shooting at random people and places with an AR-15 rifle and a handgun. He had no apparent motive or connection to any of his victims. He was also wearing a bulletproof vest and a helmet with a camera attached to it.