Sad news about a well renowned New York Times editor has people convinced the Moderna Vaccine led to his death. The timeline of how things happened seem to insinuate they may be right. This could possibly be another example of how COVID vaccine related injuries are a real thing.
Details on How New York Times editor Carlos Tejada Died of a Heart Attack After Moderna Vaccine Booster Shot
This sad story began on December 17 when Carlos Tejada proudly stated he was double vaxxed, and had just received the Moderna Vaccine booster shot.
In the post he wrote,
"Double-vaxxed. Janssen-fueled, Moderna Boosted. Hey, Omicron: Hit me with your wet snot."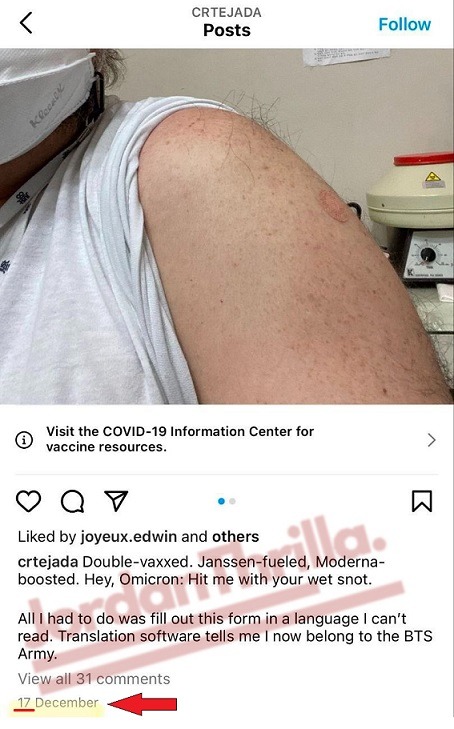 Carlos Tejada Wife Nora Confirms He Died of a Heart Attack One Day After Moderna Booster Shot
Misery would befall his family when Carlos Tejada died of a heart attack one day after the Moderna vaccine Booster shot. His death was confirmed by a post from his wife Nora, although she didn't state what caused his heart issue.
In the post she wrote
"This is Carlos' wife, Nora. It's with deepest sorrow that I have to share with you Carlos Passed away last night of a heart attack. I've lost my best friend and our kids lost a truly great dad. I will be off social media for awhile."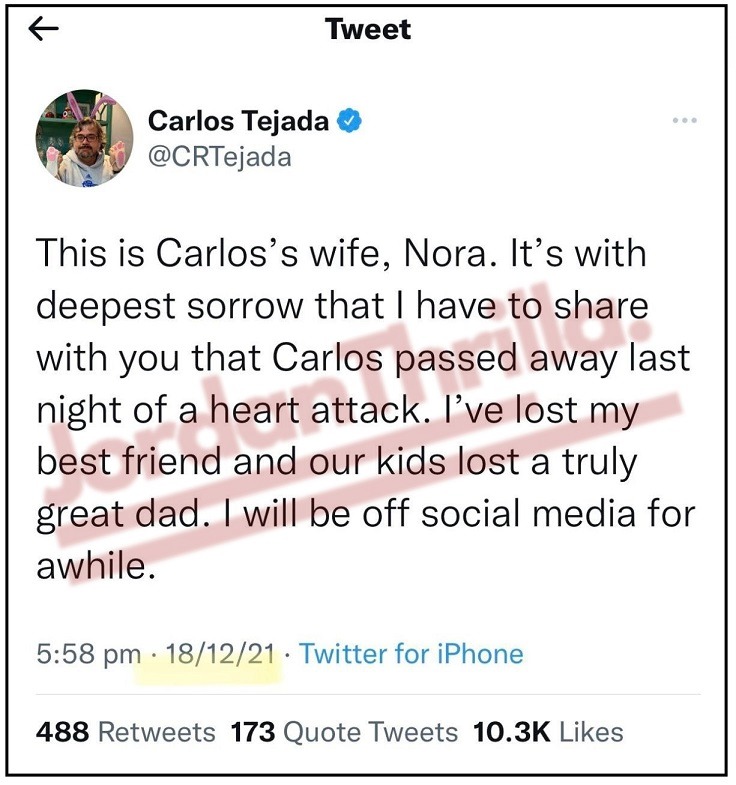 As you will see below in recent months the risks mRNA vaccines pose to the human heart have been more transparently reported from some major sources, but there validity was unfairly shot down by the powers that be.
American Heart Association's mRNA COVID Vaccine Study Warned People about Myocarditis and Heart Disease
A good example of transparency is how an American Heart Association mRNA vaccine study was published that focused on how mRNA vaccines affect a healthy human heart.
The AHA study is titled: "Abstract 10712: Mrna COVID Vaccines dramatically increases Endothelial Inflammatory Markers and ACS Risk as Measured by the PULS Cardiac Test: a Warning".
The results of American Heart Association's study showed mRNA COVID Vaccines increase chances of developing heart disease from 11% to 25% due to inflammation of endothelial cells. Twitter was seemingly caught actively trying to prevent people from reading the study, or so it seemed.
Here's a screenshot from the study you can read at 'ahajournals.org'.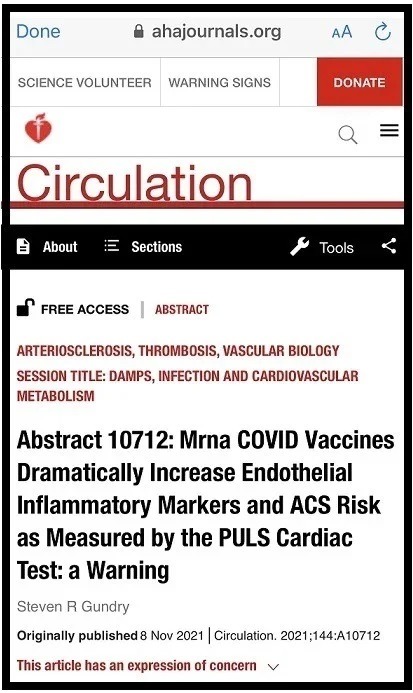 Nordic Countries Partially Banned the Moderna mRNA Vaccine Due to Increased Incidents of Myocarditis in a Private Study
A few months ago it was announced that several Nordic countries banned the Moderna vaccine for people under 30 years old. Reports said Sweden, Denmark, Iceland, and Finland banned Modern COVID vaccines for people 30 years and younger, while Iceland banned the Moderna COVID Vaccines for all ages. Other Nordic countries set their Moderna ban for people born after 1991.
According to the Finnish Health Institute, a Nordic COVID Vaccine study tested subjects from Finland, Sweden, Norway, and Denmark to see how the COVID vaccines were affecting their heart health.
The results showed that people 30 years old and younger who got the Moderna Vaccine have a higher risk than people in other age groups of developing Myocarditis. They also discovered incidents of heart inflammation happens more often than previously reported. Moderna and Pfizer Vaccine use the same mRNA technology, but they still recommended people to get the Pfizer Vaccine instead since it's a smaller dose.
Not surprisingly here in America the powers that be condemned their study.