Throughout the COVID-19 pandemic in America Chloroquine was downplayed as an ineffective measure of treating COVID-19, under Dr. Fauci's guidance. This was despite the fact it was working incredibly well in other countries where doctors were prescribing it, and standing behind their decision. There is now evidence that Dr. Anthony Fauci knew that Chloroquine works on COVID-19, because his own NIH division published an article about a study on it back in 2005.
Details of The Study Dr. Fauci's NIH Published on Chloroquine Working Against COVID in Both Treatment and Prevention
The screenshot below is from the experiment article titled "Chloroquine is a potent inhibitor of SARS coronavirus infection and spread", found at Virology Journal Biomedcentral, which is the official publication of Dr. Fauci's NIH division. The conclusion of that experiment made this statement in regards to Chloroquine's effectiveness against COVID viruses.
"Chloroquine is effective in preventing the spread of SARS CoV in cell culture. Favorable inhibition of virus spread was observed when the cells were either treated with chloroquine prior to or after SARS CoV infection. In addition, the indirect immunofluorescence assay described herein represents a simple and rapid method for screening SARS-CoV antiviral compounds."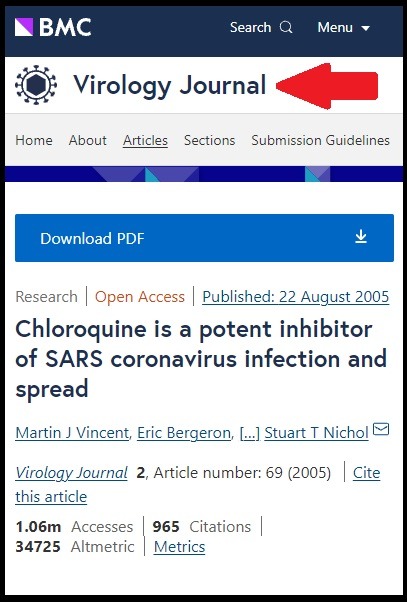 In addition to the statements above the results of the experiment also stated that Chloroquine has strong antiviral effects on COVID viruses before and after infection. Judging by the results of this experiment many lives could have been saved, but Dr. Anthony Fauci chose to support the message that Chloroquine wasn't an effective treatment. All the while it's possible Dr. Fauci was aware Chloroquine cures COVID viruses effectively.
It's scary to think this was the doctor leading a nation through a pandemic.
Author: JordanThrilla Staff