A conspiracy theory that rapper Birdman murdered Lil Wayne's father in 1996 is gaining traction on social media, after an old video surfaced online where another rapper, BG, explained why Lil Wayne returned to Cash Money Records during his early years.
The Footage Fueling the Conspiracy Theory that Baby aka Birdman Murdered Lil Wayne's Dad
The video, which was posted on YouTube, shows BG talking about the history of Cash Money Records and its artists, including Lil Wayne, who was discovered by Birdman when he was 11 years old. BG reveals that Lil Wayne had left Cash Money for a brief period, because his father wanted him to pursue a different direction with his career. This is where the story gets strange, and scary.
After Lil Wayne's father died in 1996, and Birdman picked him up the same day, and the first thing he said to him was "you look like you just lost your father". Lil Wayne was 14 years old at the time, and this incident eventually led to him coming back to Cash Money, and becoming one of its most successful artists, but also being scammed out millions based on the lawsuit he filed against Birdman some years ago.
After watching the video, many people on social media began to speculate that Birdman had something to do with Lil Wayne's father's death, and that he used his influence and power to manipulate the young rapper into signing with his label. Some even suggested that Birdman was involved in a plot to kill Lil Wayne in 2015, when his tour bus was shot at by an associate of Young Thug, who is also linked to Birdman.
The conspiracy theory has sparked heated debates and arguments among fans and critics of both rappers, with some defending Birdman as a father figure to Lil Wayne, and others accusing him of being a ruthless and greedy businessman who exploited Lil Wayne for his talent, and was willing to destroy his family in the process.
Lil Wayne's real father was man named Dwayne Michael Turner, who allegedly abandoned him and his mother when he was a child. Lil Wayne has said that he does not love or care about his biological father, and that he dropped the D from his birth name Dwayne Carter as a sign of disrespect. The man he considered his father was a man named, Reginald "Rabbit" McDonald. He was killed in 1996 by an unknown assailant, which is the incident that BG referred to in the video below.
In the comment section of the video are thousands of people who believe that Birdman murdered Lil Wayne's stepfather.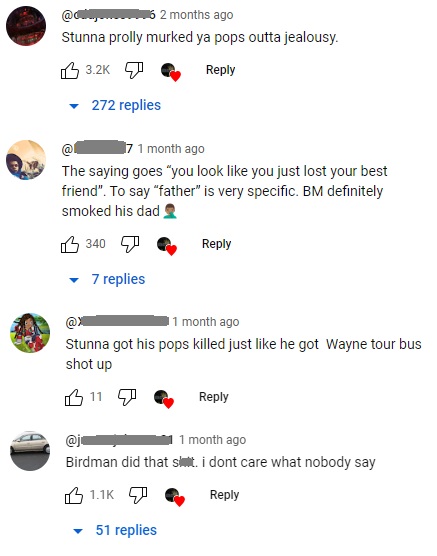 The conspiracy theory that Birdman killed Lil Wayne's father is one of the many rumors and controversies that have surrounded the two rappers for decades. While it may seem intriguing and plausible to some, it is also based on assumptions and speculations that are not supported by solid evidence, but rather circumstantial. However, the death his father remains an unsolved mystery, so there will always be room for speculation on social media.