The highly anticipated halftime show of Rihanna at Super Bowl LVII took an unexpected turn when her stage platform started to wobble. During the performance, the singer was seen standing on a square platform suspended above the arena, but it suddenly began to shake for a few moments, causing a moment of fear to the audience.
The moment the platform started to shake, fans around the world held their breaths for RiRi. As soon as the platform stabilized there was a collective sigh of relief in the minds of many fans, but interestingly Rihanna didn't seem phased at all; it was almost like she didn't even notice it was wobbling. The incident was short-lived, but the momentary fear was enough to cause an uproar on social media.
Adding to the fear was a rumor that began to spread on social media that Rihanna is pregnant with her second child by ASAP Rocky. This sparked further concern from fans, who feared for the singer's safety during the incident. While the rumors are yet to be confirmed, it gave the incident a sense of urgency and made people think twice about the safety of the singer.
The wobbling stage platform was allegedly not the only technical issue the Super Bowl LVII halftime show faced during the performance. The audio and visuals were also reported to be marred by a variety of glitches. Despite this, Rihanna managed to put on a show-stopping performance, bringing a much-needed sense of joy and entertainment to the stadium.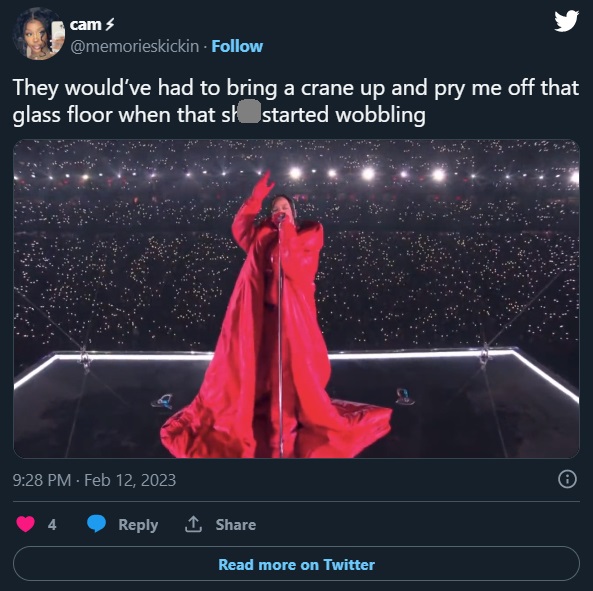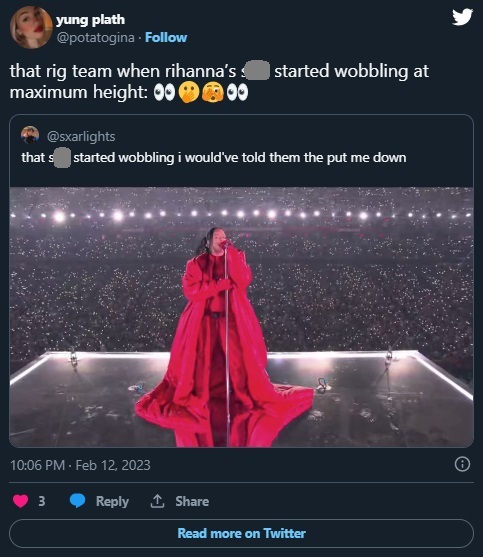 The Rihanna's stage platform shaking during her Super Bowl LVII halftime performance was a scary moment for everyone watching at home and at the stadium. To put things in perspective at the maximum height she was allegedly 200ft above the stadium floor. While the incident itself was short-lived and Rihanna was able to pull off a successful show, it still brought to attention the issue of safety protocols and security checks.