Sixers have been eliminated from the playoffs earlier than expected for another year, and it appears Doc Rivers lost faith Ben Simmons too. After being told he needs to be more aggressive Ben Simmons only scored 5 points in Game 7, while logging over 35 minutes. His presence allowed Hawks to pack the paint making life harder for Joel Embiid. After the game Doc Rivers dissed Ben Simmons with a subliminal, but very direct message.
When asked if Ben Simmons can point guard a championship team, Doc River replied saying "I don't know the answer to that". That's a completely 180 from what he said the beginning of the season, when reporters asked what he expected from Ben Simmons. Back then Doc Rivers was okay with offensive flaws thinking he would find ways to coach around them. However, just like like predecessor Sixers former coach Brett Brown he learned the hard way that it's tough to beat good teams in the playoffs when they can ignore a player on the floor or foul knowing they can't make free throws either.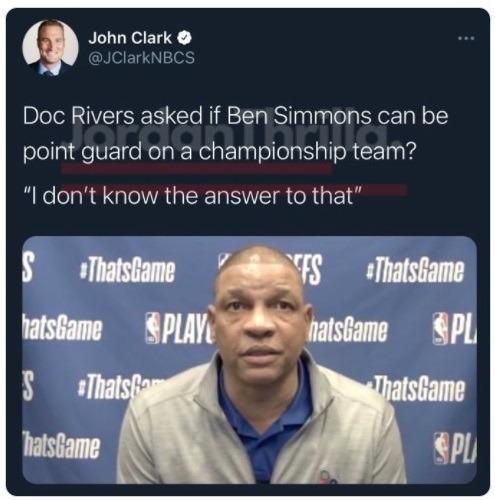 This play where Ben Simmons passed on a wide open layup is a perfect example of how scared he is to go to the free throw line. Luckily the unnecessary pass he made led to a foul.
It's commendable how Sixers refused to give up Ben Simmons despite his constant failures in the playoffs, and lack of improvement as player. However, it may be time to move on and see what you can get in return for a trade.
As Joel Embiid's injuries continue to build up the Sixers can no longer procrastinate with surrounding him with true championship contending help, while he's still able to put up monster numbers. Trading Ben Simmons could be the first move towards a new era in Philly.
Author: JordanThrilla Staff