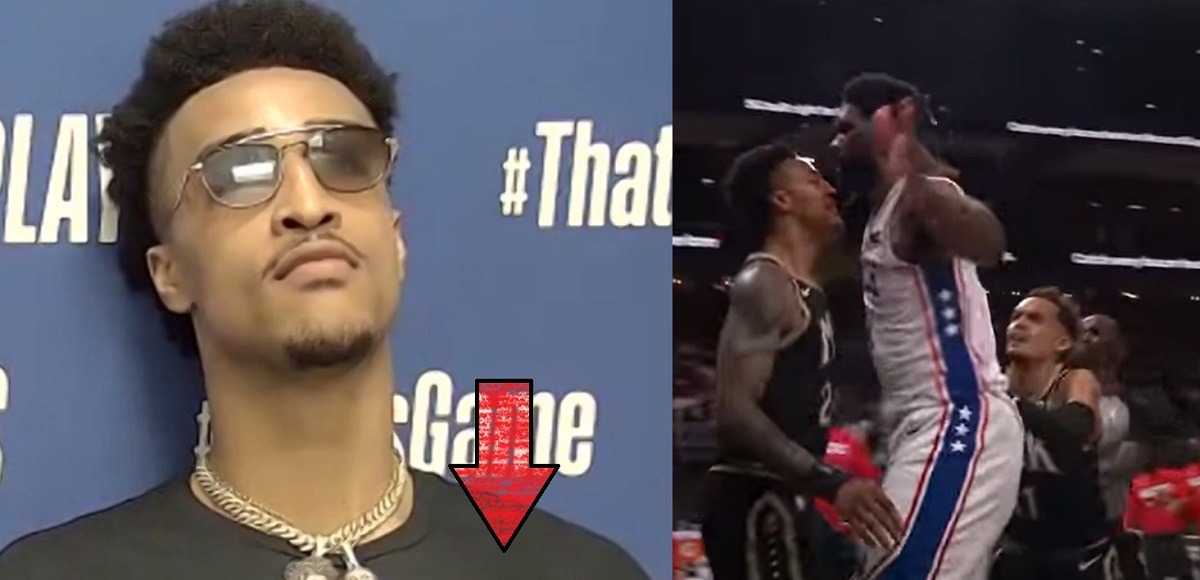 The Hawks are going to the conference finals shocking just about everyone in the basketball world. The emotional pain Sixers are probably feeling is intensified by the fact that they lost big leads many times in this series. For Joel Embiid his night would get even worse when John Collins threw salt on his open wounds.
After ending Sixers season in Game 7 John Collins wore a t-shirt of himself dunking on Joel Embiid to the postgame press conference. The play happened in the third quarter of Game 6 with 4:45 left on the clock. Trae Young drives down the lane looking like he's going to take a floater, but lobs it John Collins who rose up and laid the hammer down on Embiid.
It was evident the play really embarrassed Joel Embiid, because he elbowed John Collins late in the 4th quarter starting scuffle.
Now take a look at the dunk that stopped the basketball world.
Behold John Collins' t-shirt dunking on Joel Embiid. It's easy to see he chose the most disrespectful moment of the dunk sequence. He was basically mushing Joel Embiid in mid air, and almost broke his nose in the process. The whole play from start the finish got progressively more disrespectful.
There is clearly competitive beef between these two great players. Hopefully Sixers and Hawks matchup again next season in the playoffs. Most NBA players put their opponents on posters, John Collins put Joel Embiid on a T-shirt, which is legendarily ruthless.
Author: JordanThrilla Staff