The beef between Lil Nas X and Lil Boosie is heating up again, but this time things went too far. In this case Lil Boosie fell for the bait of Lil Nas X trolling him on Instagram Live. With only a few words Lil Nas X was able to send Lil Boosie into a fit of uncontrollable rage.
Lil Boosie Tells Lil Nas X to Commit Suicide for saying He Made a Song With Him
This whole ordeal started when Lil Nas X said he has a song with Lil Boosie coming out to his LGBTQ fans on Instagram Live. As we all know Lil Boosie wants nothing to do with gay community, so he was very mad at the thought of people think he made a song with a gay artist.
As result Lil Boosie reacted to Lil Nas X's song claim with a homophobic rant that puts what DaBaby said to shame. He wrote the message in all caps so you know he was very angry. Lil Boosie told Lil Nas X to commit suicide, because he would be doing the world a favor. That's some next level homophobic stuff to say.
First take a look at Lil Nas X saying he has a song with Lil Boosie coming out.
Lil Boosie Wishes Death Upon Lil Nas X on Twitter
In response to that video above, Lil Boosie posted this message on Twitter telling Lil Nas X to commit suicide:
"Stop trolling me f**** lol. You a whole b**** playing with a gangster smh. You can keep sucking d***, and getting f***** in your a** in peace. You hate yourself, and I would too if I was you lol. Lil Nas X if you commit suicide you would do this world a huge favor. Nobody wants you here".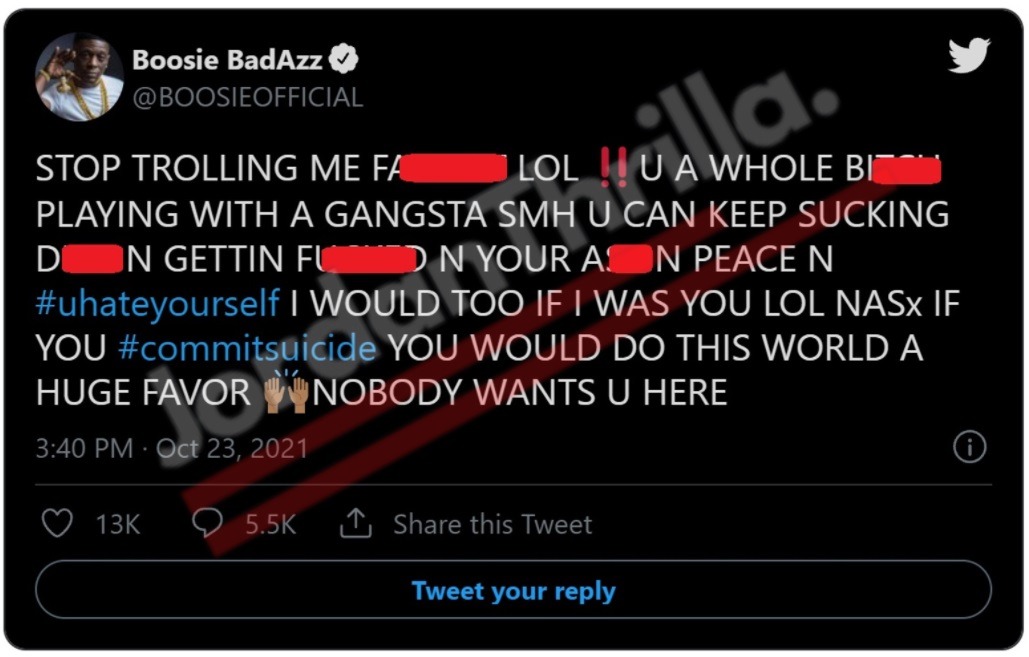 Lil Boosie is similar to Dave Chappelle in the sense that he can't be cancelled by the gay community. This is why Lil Boosie isn't afraid to post homophobic stuff like this on social media. However, this might be the farthest he's went in terms of things he has said about Lil Nas X.
To his defense, it was Lil Nas X that started this round of their beef by mentioning Lil Boosie's name on IG live for no reason. That still doesn't warrant wishing death upon him though.
If Lil Nas X commits suicide one day, Lil Boosie will surely feel guilty about what he said. You should never wish death upon anyone over some words.
Author: JordanThrilla Staff