UFC 264 main event is over in the first round, and this might really be the end of Conor McGregor's career. In the closing minutes of the first round Conor McGregor broke his ankle while exchanging blows with Dustin Poirier.
During exchange of punches Dustin Poirier appeared to daze Conor McGregor with a right hand that caused him to stumble backwards. When he tried to regain his balance Conor McGregor broke his ankle completely. The bell for the end of the round rang, but he stayed down on the ground saying "my ankle my ankle". When he tried to move his leg you could see Conor McGregor's foot was just dangling completely broken. Like Gordon Hayward level broken.
At the end of the fight Dustin Poirier said he believed Conor McGregor broke his leg checking a kick earlier in the fight. He also pointed out the fact McGregor's kicks were making contact with his knee area, which meant bone to bone hits. The Ankle bone is much easier to break than the thicker knee joint area.
Also if you look closely you can see the exact area where his ankle broke was already discolored before it happened, which may indicate it was a big fracture just waiting to completely snap.
How ironic that would be, because Conor McGregor put an emphasis on training to check the kick to win the fight, but in the end it may have lost him the fight.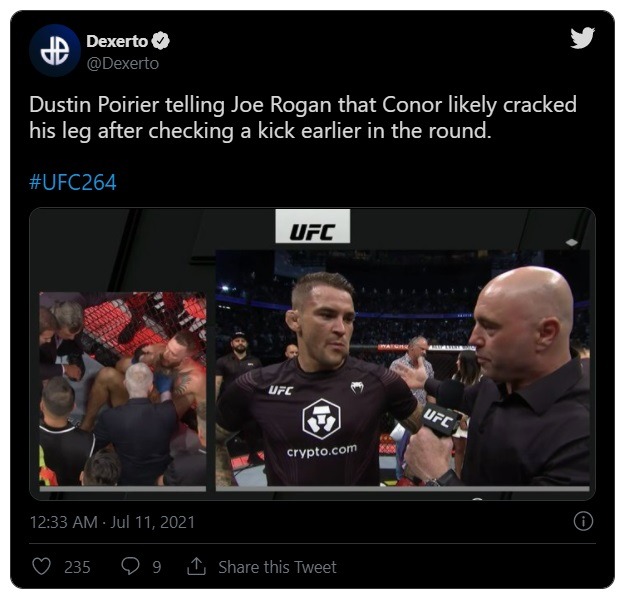 You can make a full recovery from a broken ankle, but sometimes you can't recover from an ego broken this badly. Dustin Poirier was winning the fight even before that freak injury happened.
It was really sad to see Conor McGregor go out like that, but it may be over for him. Prayers up for his health and career.
Author: JordanThrilla Staff