Twitter is caught in controversy again for possibly trying to mislead people about a recent study that doesn't fit the narrative of pro-vaccine propaganda pushers that the COVID vaccine is safe. The last time this happened Twitter falsely labeled an obituary of woman named Jessica Wilson who died from a COVID vaccine side effect as "misleading information". This time people believe Twitter falsely labeled an American Heart Association mRNA vaccine study as an "unsafe" link.
If you don't know by now Twitter seems to be a very biased place when it comes to COVID vaccine information. They regularly "fact check" anything anti-vaccine, ban people who question the vaccine's safety, and of course label real happenings as misleading information. Recently the American Heart Association published a study that showed mRNA COVID Vaccines increase chances of developing heart disease from 11% to 25%. That's a 14% increase, which is very alarming.
The AHA study is titled: "Abstract 10712: Mrna COVID Vaccines dramatically increases Endothelial Inflammatory Markers and ACS Risk as Measured by the PULS Cardiac Test: a Warning"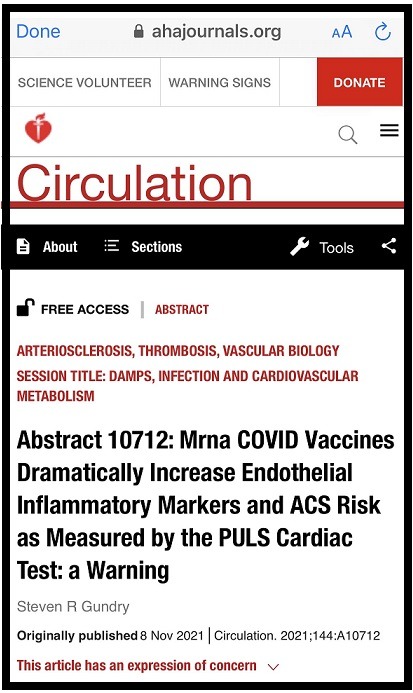 Why Did Twitter Put 'Unsafe' Label American Heart Association's mRNA Vaccine Warning Study?
Despite this being a valid study from one of the most trusted Heart associations, Twitter labeled American Heart Association's mRNA COVID vaccine study as an "unsafe or spammy" link. This means when someone clicks a link to the AHA study on Twitter they are taken to the page with a warning before they have to click a second time to be taken to the article, which significantly decreases the click through rate of a Twitter link. Essentially it's a way to keep people from reading something, and to also discredit it.
It's alleged that Twitter used the "unsafe" label because the AHA mRNA vaccine study had a few typos and no statistical analyses for significance provided. However, using that unsafe label still doesn't make sense when you look at the definition in their warning message.
To be qualified as an "unsafe" link on Twitter one or more of these criteria have to be met:
It has to be a spammy link that misleads or disrupts experience, violent or misleading content that leads to real world harm, or a malicious website that steals people's information or harms their electronic device.
It's easy to see that none of these would apply American Heart Association's mRNA vaccines warning.
Take a look at the tweet below.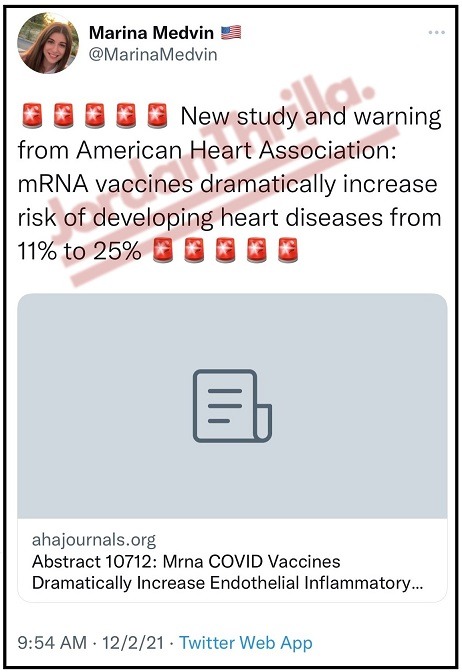 When you click the link in the tweet above you are shown this warning message. Notice how the "back to previous page" button is very big, but the "continue" button is a small word. It's a perfect way to stop people from clicking a potentially harmful link, but also a great way to stop people from clicking something you don't want them to read.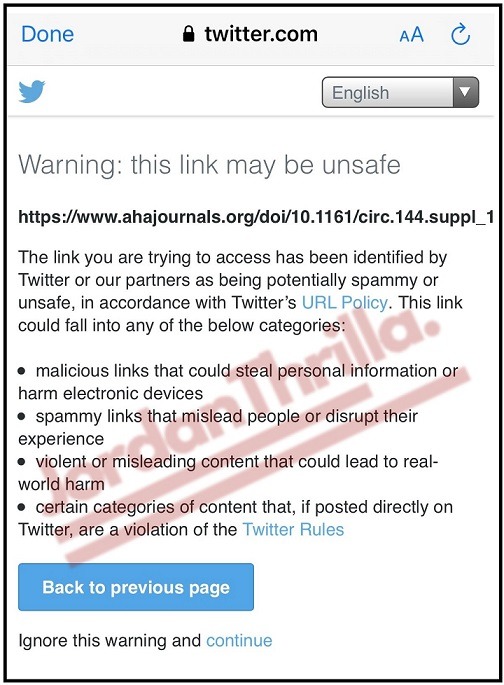 Is Twitter Trying to Hide the Truth About American Heart Association's mRNA COVID Vaccine Warning Study?
If this same AHA study showed that mRNA vaccines didn't affect your heart would Twitter have labeled it as "unsafe"? Based on their track record they probably wouldn't have, and also would have likely promoted it on their front page.
American Heart Association's mRNA COVID vaccine warning makes you wonder if vaccine mandates really could be the cause of the drastic increase of FIFA soccer player's collapsing on the field in 2021.
Authors: JordanThrilla Staff