Recently President Joe Biden issued his first veto since taking office, rejecting a Republican-led bill that would have overturned a Labor Department rule related to environmental, social and governance (ESG) investing for Americans' retirement plans. The bill had passed both chambers of Congress with some Democratic support, but Biden argued that it would put at risk the retirement savings of millions of workers by preventing them from considering factors such as climate change and executive compensation when making investment decisions.
Details on Why 'Woke Wall Street' is Trending After Joe Biden's Veto
The veto sparked a backlash from Republicans, who accused Biden of siding with "woke Wall Street" over workers and using their retirement savings to fund his "far-left political causes". House Speaker Kevin McCarthy tweeted: "In his first veto, Biden just sided with woke Wall Street over workers. Tells you exactly where his priorities lie".
What does it mean to side with "woke Wall Street"? And why did McCarthy use this term to attack Biden?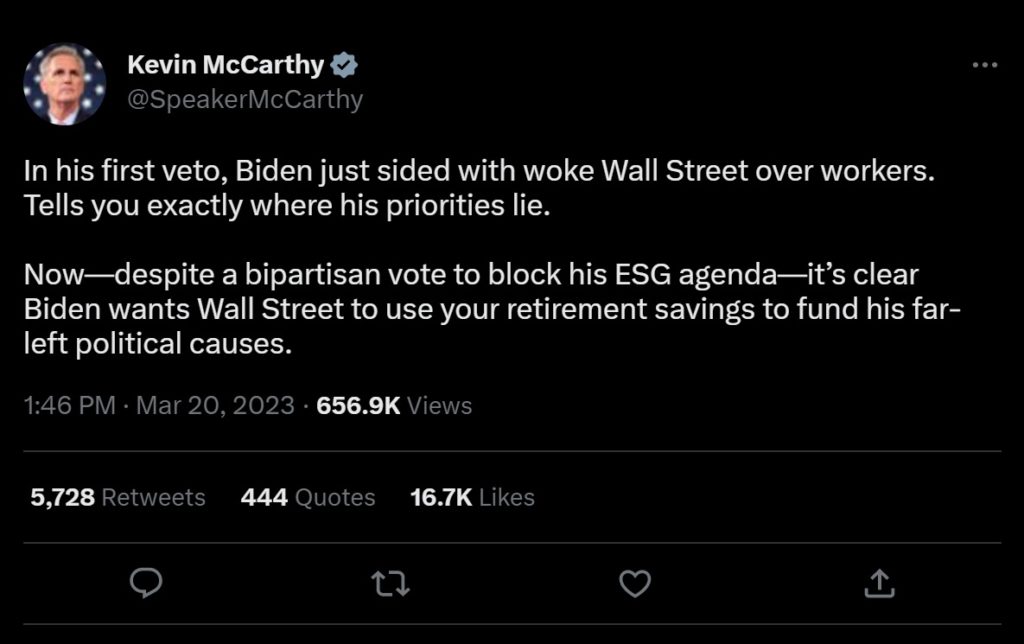 What is ESG investing?
ESG investing is an acronym that stands for environmental, social and governance. It refers to an investment strategy that considers not only financial performance but also the impact of companies on society and the planet. ESG investors may favor companies that have strong policies on reducing greenhouse gas emissions, promoting diversity and inclusion, protecting human rights and fighting corruption. They may also avoid companies that are involved in controversial industries such as fossil fuels, tobacco or weapons.
ESG investing has grown rapidly in recent years as more investors become aware of the risks and opportunities associated with environmental and social issues. According to a report by Morningstar, global assets in sustainable funds reached $2.3 trillion at the end of 2021, up 29% from 2020. ESG investing is also supported by many institutional investors such as pension funds, endowments and foundations that have fiduciary duties to their beneficiaries.
What is the Labor Department rule?
The Labor Department rule that Biden vetoed was issued in October 2020 by the Trump administration. It amended the Employee Retirement Income Security Act (ERISA), which governs private-sector retirement plans such as 401(k)s and IRAs. The rule stated that plan fiduciaries must act solely in the interest of plan participants and beneficiaries when selecting investments and could not subordinate their financial interests to non-financial objectives such as ESG factors.
The rule also required plan fiduciaries to document their analysis and justification for any ESG investments they made or offered to plan participants. The rule was widely criticized by ESG advocates who argued that it created unnecessary barriers and burdens for plan fiduciaries who wanted to incorporate ESG factors into their investment decisions.
They also claimed that the rule was based on a false premise that ESG investing sacrificed returns for values. In June 2021, under Biden's direction, the Labor Department announced that it would not enforce the Trump-era rule until further notice while it reviewed its legality and impact.
Supporters of the rule argue that ESG factors are relevant for assessing the long-term risks and opportunities of an investment, and that plan managers should be able to protect the retirement savings of millions of Americans from potential losses due to environmental or social crises. Opponents of the rule claim that ESG investing is a form of "woke capitalism" that prioritizes political agendas over financial returns, and that plan managers should focus on maximizing profits for savers regardless of other considerations.
Whatever you believe pertaining to this issue, most people can probably agree that the phrase "Woke Wall Street" sounds like the name of a hit Netflix documentary in the making. It won't be surprising if people start wearing t-shirts with the term printed on it at Joe Biden speeches.