The video of a Dallas Stars crowd fight involving a mullet-clad racist fan has gone viral on Twitter, with the phrase "Hey Little Boy" trending in the aftermath. The video shows the fan calling a white man the N-word racial slur, only to be knocked out momentarily in response. The man who got punched was wearing a 1980s style mullet hairdo, which of course got roasted on social media.
In the wake of the incident, the Dallas Stars haven't released a statement condemning the behavior of the fan. On social media there are rumors the mullet-clad man is season ticket holder. As such people are wondering if the league will ban the fan from attending future games at the American Airlines Center.
All in all this might be the first time we've seen two white people fight during a sporting event because the N-word was used. Naturally social media is hailing the man who punched the racist fan a Black History Month legend for not tolerating the use of the heinous word. As you'll see in the aftermath of the fight someone in crowd was saying "Hey Little Boy" to fan throwing more salt on his wound of getting knocked out in front his girlfriend.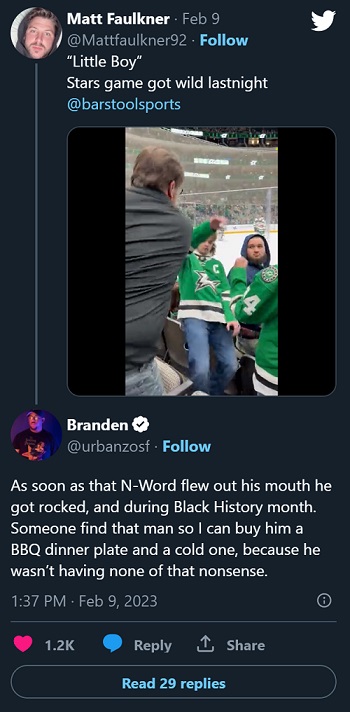 The funniest part about the fight was that after getting punched in the face, the mullet-clad fan was pinned down while trying to fight back. The man who threw the punch was only using one arm to keep him at bay while he was trying to retaliate.
This was another episode of play stupid games, win stupid prizes. Getting knocked out in front your girlfriend is an embarrassing memory that will last a lifetime, especially if she breaks up with him. Now millions of people have seen it happen considering the video has over 6 million views and counting.