The Memphis Tigers basketball program received a shocking blow on Friday when news broke that one of their prized recruits, Mikey Williams, was arrested on multiple felony gun charges in San Diego. Williams, a five-star guard and the No. 26 overall player in the 2023 class according to 247Sports Composite, signed with Memphis in November and was expected to be a key contributor for coach Penny Hardaway next season.
Mikey Williams' Instagram Account Was Deactivated After His Arrest
However, his future with the Tigers is now in doubt after he was booked on Thursday afternoon on five counts of assault with a deadly weapon using a firearm in the San Diego California area, as reported by Jackson Brown of ABC 24 Memphis. Williams was released on $50,000 bail early Friday morning and is scheduled to appear in court on April 20. The details of the incident that led to his arrest are still unclear.
Williams is a native of San Diego and played his senior year at San Ysidro High School, where he averaged 29.5 points, 6.7 rebounds and 4.9 assists per game. He also played at Lake Norman Christian School in North Carolina as a junior and at San Ysidro as a freshman. He has been a viral sensation since his middle school days, attracting millions of followers on social media and endorsement deals with companies like Puma and StockX.
Williams chose Memphis over offers from Arizona State, Kansas, UCLA and USC, among others. He cited his relationship with Hardaway and his desire to play with other top recruits as reasons for his decision. He was part of a stellar 2023 class for Memphis that also included four-star forward Josh Minott and four-star guard Jordan Nesbitt. After his arrest Mikey Williams IG account was deactivated, which is a very bad sign.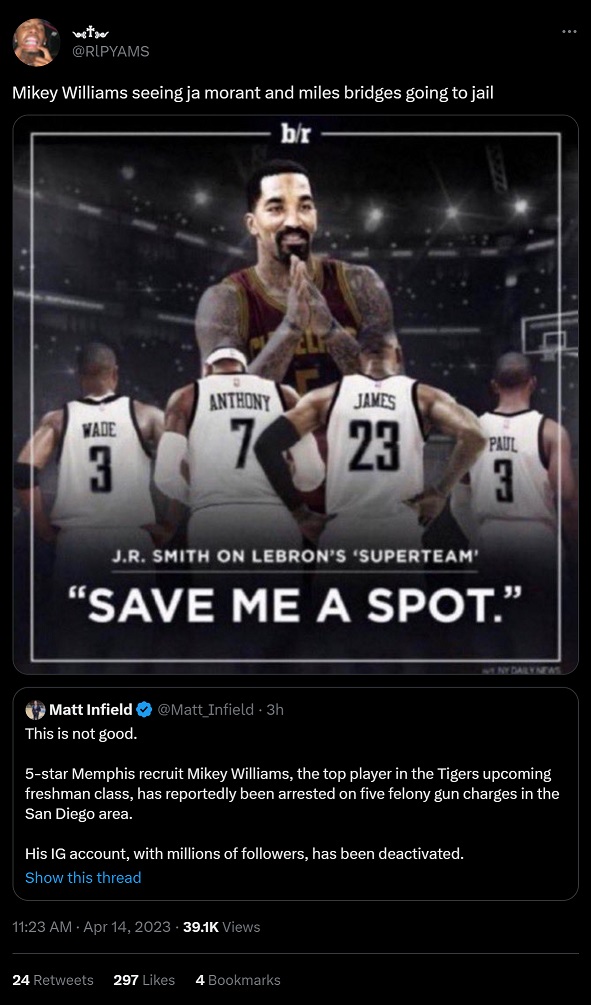 How Much Jail Time is Mikey Williams Facing?
The Memphis athletics department issued a statement on Friday saying that they are aware of the situation and are gathering more information. It is unknown at this point how Williams' arrest will affect his eligibility or status with the team. If convicted, he could face a minimum of six months in county jail for each charge, according to California law.
This is not the first time that Memphis has dealt with legal issues involving its basketball players. In 2019, star freshman James Wiseman was ruled ineligible by the NCAA for receiving improper benefits from Hardaway before he became the head coach. Wiseman eventually left the team after playing just three games and was drafted No. 2 overall by the Golden State Warriors in 2020.
Mikey Williams' arrest is another setback for a program that has been trying to regain its national prominence under Hardaway, who played for Memphis from 1991 to 1993 and led them to two Elite Eight appearances. The Tigers have not made the NCAA tournament since 2014, and have missed out on several top recruits in recent years.
Could this be the end of Mikey Williams' basketball career in terms of making the NBA? Did he or police deactivate his IG account?