Julian Newman is one of the most infamous high school basketball players of all time. As a middle schooler he rose to fame for dominating against the competition with his insanely quick handles, but as time went on he stopped growing, and became more of a clown show on the court. Although he never managed to play professional basketball at a high level, he used his fame to create other avenues of revenue for himself, and now is reportedly worth around $5 Million. Recent allegations suggest one of his new found sources of income is based on scamming rappers, but is it true?
Is Julian Newman Scamming Upcoming Rappers on IG? Details Behind the Instagram Scam Allegations
According to the viral rumor Julian Newman is targeting lesser known rappers who don't have a lot of followers by offering to promote their music in exchange for cash. Based on leaked DMs floating around social media Julian Newman approaches these rappers with the same intro message claiming that his cousin put him on to their music, and he can promote it for a low price. In each DM Newman tells the targeted rapper "You got fire bro, my cousin put me on. If you need help getting it out there at all let me know. I could talk to my team about getting you right for the low".
Now using the same line for every rapper he approaches is kind of sketchy, because it can show he really isn't listening to their music, but rather is just trying to take advantage of their situation. However, to say Julian Newman is scamming rappers would mean that he's taking their money then not promoting their music. Considering there is evidence that he actually does attempt promoting their music on his IG page, it's tough to say it's a scam. It seems more like he is legitimately doing what he promised, albeit in a slightly sketchy manner.
Each of the leaked DMs below are to different rappers, but as you'll see he's using the same line for every single person he approaches as aforementioned.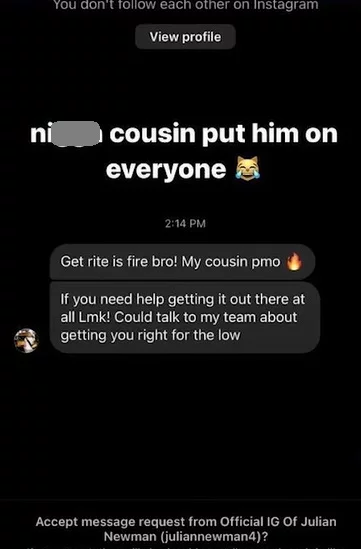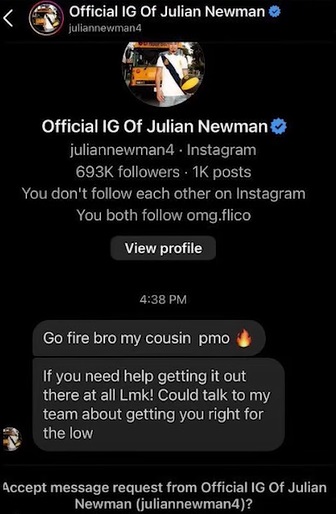 Sadly in the world of music upcoming rappers have to deal with scams all the time. Whether it's from music labels, people stealing their work that isn't properly copyrighted, or whatever the case may be they are often times the target of people looking to make quick buck in a dishonest manner.
However, it doesn't seem like Julian Neman is outright scamming hip-hop artists, because as aforementioned there is evidence he at least tries to promote their music, and any kind of exposure is good for a rapper trying to gain more fame.