It's been 67 years since Emmett Till was kidnapped and murdered after being falsely accused of flirting with a white woman named Carolyn Bryant Donham. Her fabricated accusations are what sparked the string of events that led to him being beaten and lynched to the point where his body was unrecognizable. Since then Carolyn Bryant has been living free without repercussions for her actions, but people were sure that would change after a group uncovered a 1955 arrest warrant that had never been served. However, in a shocking twist the exact opposite happened in what seems like a cruel case of Deja vu..
Details on How the Emmett Till Foundation Found a 1955 Arrest Warrant for Carolyn Bryant Donham
Back in June it was reported a group of people from the Emmett Till Legacy Foundation were searching in the basement of a Mississippi courthouse seeking to find unreported evidence from the time period of the crime. What they stumbled upon was an unserved 1955 arrest warrant for Carolyn Bryant Donham. According to AP on the document her name is written as 'Mrs. Roy Bryant'. It's alleged corrupt police didn't arrest her back then, because she had two children and they didn't want to separate her family.
Celebrity Reactions to Mississippi Grand Jury Declining to Indict Carolyn Bryant Donham for Emmett Till's Murder and Kidnapping
Even though it's clear she's guilty, today it was announced the Mississippi Grand Jury declined to indict Carolyn Bryant Donham for her role in Emmett Till's murder and kidnapping. What's strange is that they still claim there is insufficient evidence to charge her despite the fact she herself has admitted to falsely accusing him. This is like a cruel case of Deja Vu playing out in 2022, because in 1955 they let her husband go free for similar reasons. Now it's highly unlikely that justice will ever served to one of people responsible for his death.
Celebrities reacted to the Mississippi Grand Jury's decision with emotional posts about how wrong it is that Carolyn Bryant Donham is walking free again.
Charlotte Clymer wrote, "This is a terrible decision. She was a grown white woman who falsely accused a Black child and enabled his murder, full well knowing it was a lie. She admitted it. Carolyn Bryant Donham should be indicted. This is spitting on the memory of Emmett Till".
Ben Crump wrote, "A MS grand jury declined to indict Carolyn Bryant Donham in the lynching of Emmett Till due to a lack of "sufficient evidence," despite the recent unearthing of an unserved warrant for her arrest. This is yet another FAILURE of our criminal justice system!".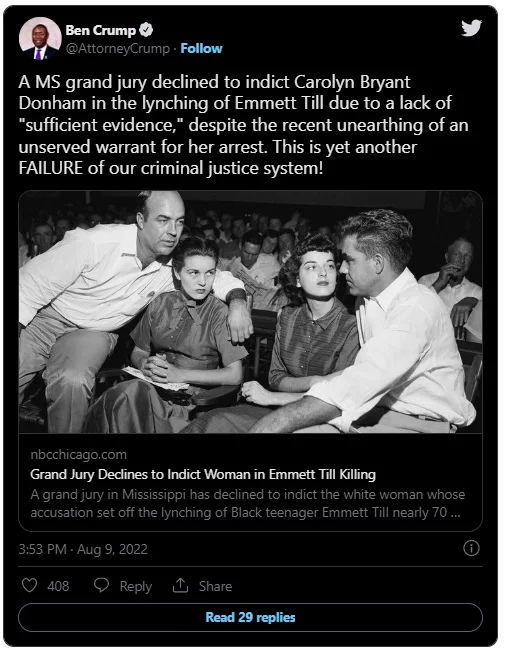 Tariq Nasheed wrote, "The dominant society continues to protect this woman for almost 70 years".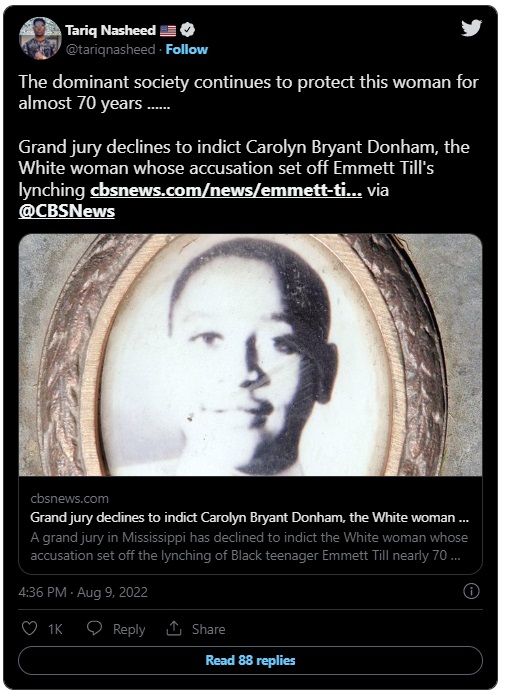 Karen Attiah wrote, "Shed No Tears for Carolyn Bryant Donham" referencing Donham claiming she felt like victim despite being the person that falsely accused Emmett Till.
According to reports Carolyn Bryant Donham is currently around 80 years old, and was last seen living in North Carolina. Even in 2022 none of the people involved in Emmett Till's death have faced any prosecution, and now it likely they never will. The two men who murdered him were acquitted of their charges just two weeks after his death. Now Carolyn Bryant Donham is walking free as well in 2022 all over again, Deja Vu. The rigged justice system strikes again.