A shocking photo of a blonde haired woman's phone at a Luke Combs concert in Tampa, Florida has gone viral on social media, sparking a debate about cheating and privacy. The photo, taken by a fan sitting behind the woman, shows her deleting text messages from a man named Chris, while her phone also reveals that she is married to a man named Ethan.
The fan, who posted the photo on Facebook, wrote a caption addressed to Ethan, warning him about his wife's alleged affair.
The caption read: "If your wife was in section 331 of the Luke Combs concert in Tampa, Florida on July 8th, and your name is Ethan, you might want to figure out who Chris is, and why she's deleting their messages".
The photo quickly gained thousands of reactions and comments, with many people expressing their opinions on the situation. Some praised the fan for exposing the cheating wife, saying that Ethan deserved to know the truth and that he should divorce her.
Others criticized the fan for not minding his own business and secretly spying on what people were doing on their phones. They argued that he violated the woman's privacy, and that he had no right to interfere in her personal life.
If you found out someone was spying on your phone at a concert would you feel some type of way?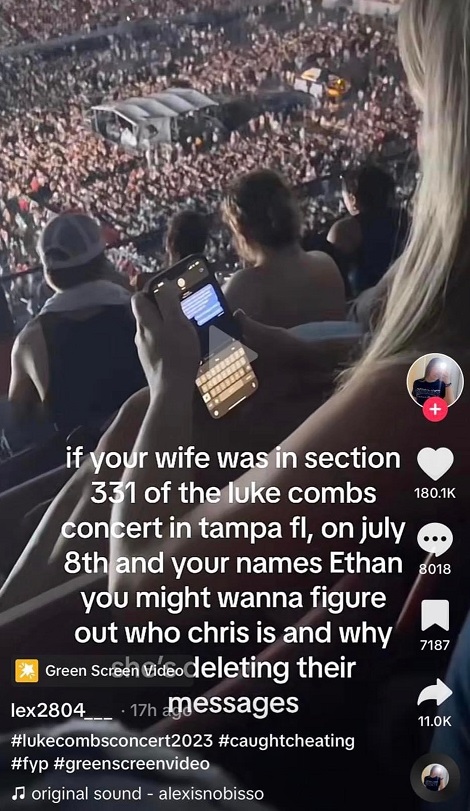 The woman's identity and whereabouts are unknown, as well as the status of her marriage with Ethan. It is also unclear whether Ethan has seen the photo or not, and what his reaction was, but he probably won't be letting his wife go to concerts alone anymore.
Luke Combs, the country singer who performed at the concert, has not commented on the incident.
This is not the first time that a cheating scandal has been exposed by a stranger on social media. In 2019, a woman named Rosie Blair live-tweeted the flirtatious interaction between two passengers on a plane, who turned out to be married to other people. Her tweets went viral and sparked a similar debate about cheating and privacy.
What do you think of this situation? Do you think the fan did the right thing by posting the photo? Or do you think he crossed a line by snooping on the woman's phone?