GTA 6 is the video game equivalent of Dr. Dre's Detox album. They have both have been anticipated for years, there have been many leaks about what they might contain, and they both seem to be never coming out. That all changed with details that were revealed in the most recent Grand Theft Auto 6 leak, which consisted of a map. Based on the information presented it might actually be coming out soon, and it's going to possibly contain some awesome new features that may impact real life.
Is Crypto in Grand Theft Auto 6? Details on How Fortnite and Cryptocurrency is Connected to GTA 6 Map Leak
According to multiple reports a new Grand Theft Auto 6 leak revealed some very interesting things about the city map locations, and how the reward system will work. Firstly the game is said to be taking place across three different environments in Colombia, Miami, and Cuba. Perhaps the most exciting part of the GTA 6 leak involves crypto. According to reports there will cryptocurrency rewards in GTA 6, which could mean that you will actually be able to spend it on real life items. In addition it's alleged that GTA 6 will have Fortnite style maps in that it will be ever changing.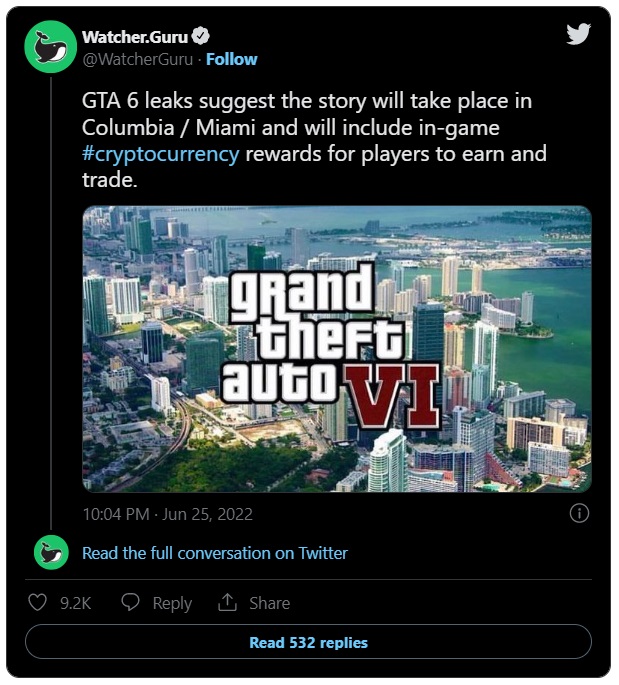 Over the years many popular YouTubers have made concept GTA 6 maps based on what they hoped would be in the game, and all those pale in comparison to the real details of this recent leak.
Grand Theft Auto 6 is being developed by Rockstar's North division located in Edinburgh, Scotland. Earlier this year they finally confirmed that the game was in development, but many people still weren't convinced until the news that went viral today.
GTA 6 is said to be set between the years of 2022-2023 in terms of the storyline. However, an official release date still has not been announced, but this leak gives everyone hope that a date will be set soon.