The assassination of Martin Luther King Jr., one of the most influential leaders of the civil rights movement, has been the subject of various conspiracy theories since his tragic death on April 4, 1968. King was shot by James Earl Ray, a fugitive and petty criminal, on the balcony of the Lorraine Motel in Memphis, Tennessee.
Ray's rifle was found near the scene of the shooting, along with his fingerprints and other belongings. Ray confessed to the crime and gave details that matched the physical evidence. Ray pleaded guilty to the murder and was sentenced to 99 years in prison, but later recanted his confession and claimed he was a scapegoat for a larger FBI conspiracy.
Did Martin Luther King Jr. Actually Die After Being Suffocated in His Hospital Room?
One of the most shocking and controversial conspiracy theories about King's death is that he actually survived the gunshot wound, but was later murdered in his hospital room by two men dressed in black who spit on him and suffocated him with a pillow. This theory is based on an alleged eyewitness account by a nurse who worked at St. Joseph's Hospital, where King was taken after the shooting. The nurse, whose name has never been revealed, reportedly told her story to a friend, who then shared it with a journalist named Mark Lane.
Lane, who was also a lawyer and a prominent critic of the official investigations into the assassinations of John F. Kennedy and Robert F. Kennedy, published the nurse's account in his 1978 book "Code Name Zorro: The Murder of Martin Luther King Jr". Lane claimed that the nurse saw two men enter King's room while he was still alive and breathing. She said that one of them spit on King's face and said, "This will teach you to meddle in things that don't concern you". Then they placed a pillow over his face and pressed down until he stopped moving. The nurse said she was too terrified to intervene or report what she saw.
Lane also claimed that he had corroborating evidence from other sources, such as a doctor who examined King's body and found signs of suffocation, and a hospital administrator who admitted that there was a cover-up. However, Lane never provided any names or documents to support his claims, and his book was widely criticized for its lack of credibility and factual errors. Lane himself admitted that he did not interview the nurse directly, but relied on her friend's account.
The conspiracy theory that King was killed in his hospital room resurfaced recently on social media, after a Twitter user named @ValTown posted a thread about it recently. The thread went viral, attracting thousands of likes and retweets, as well as comments from people who expressed shock, anger, or skepticism about the story. Some users also shared links to articles or videos that discussed theory.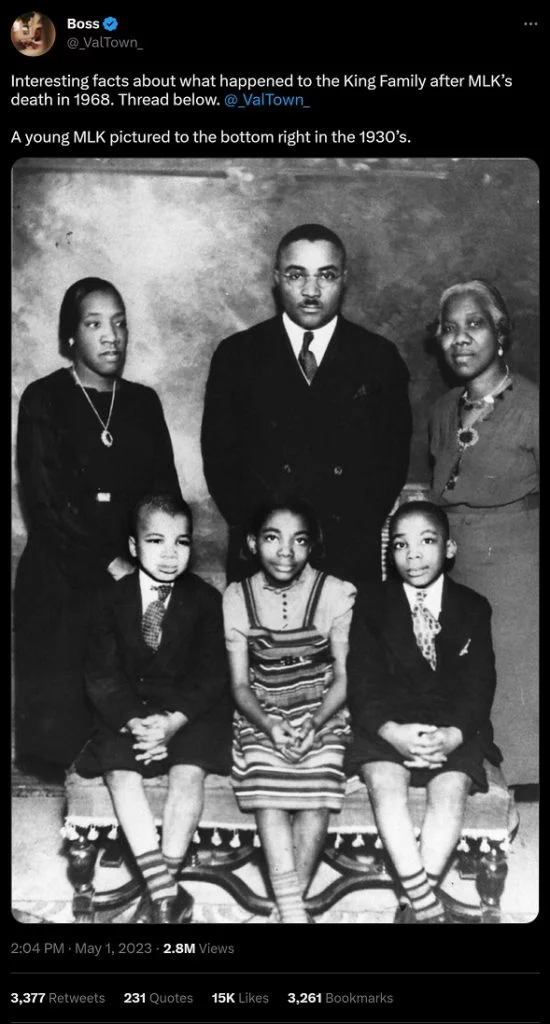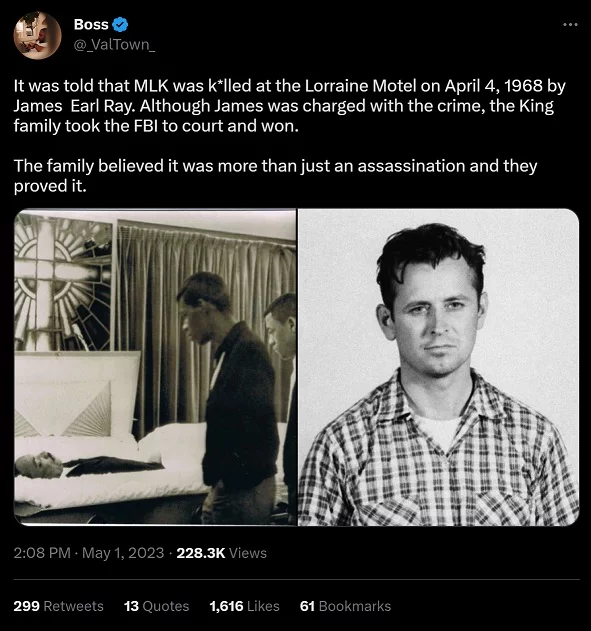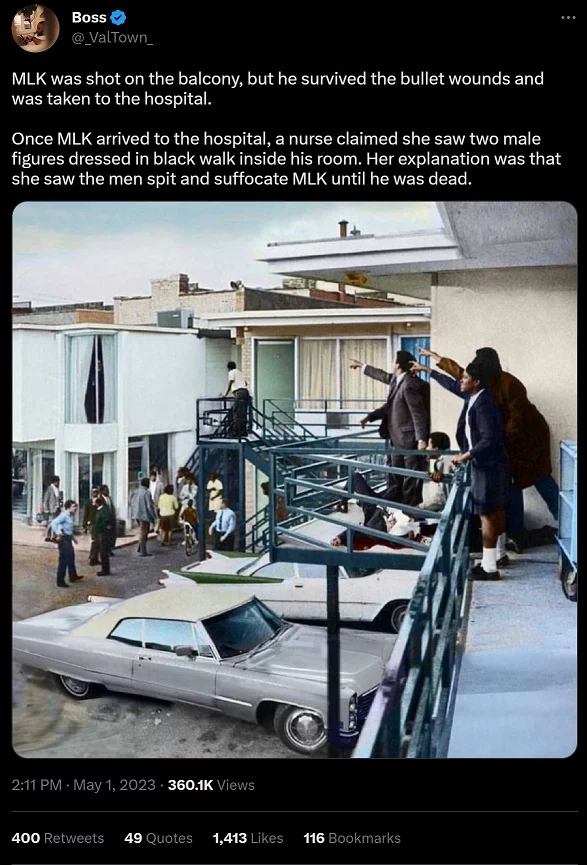 Not surprisingly the theory has been repeatedly refuted by historians, journalists, and authorities who have investigated King's assassination over the years. The official autopsy report confirmed that King died from a single gunshot wound that severed his spinal cord and caused massive blood loss. There was allegedly no evidence of any other injuries or signs of suffocation on his body.
The nurse who allegedly witnessed the murder has never been identified or located, and no other witnesses have come forward to corroborate her story. The hospital staff who treated King have denied any foul play or cover-up, and have praised King's courage and dignity in his final moments. However, conspiracy theorists believe that could all be part of a cover up by the FBI, whom many believe was allegedly behind the conspiracy to murder him.