JR Smith is on a mission to change his image, and he is fed up with major media outlets promoting the "Henny JR Smith" jokes. In the most recent incident JR Smith made House of Highlights delete a "Henny JR Smith" TikTok video of him walking to class on NC A&T campus. JR Smith accused House of Highlights of promoting negative stereotypes about black men.
The corny TikTok video had a caption saying,
"This man J.R. go to my college. He probably off the Henny Right Now".
Of course it included the annoying robot voice that people on TikTok have ran into the ground by now. JR Smith was just walking to class as a normal student with a pretty woman, while putting on his facemask.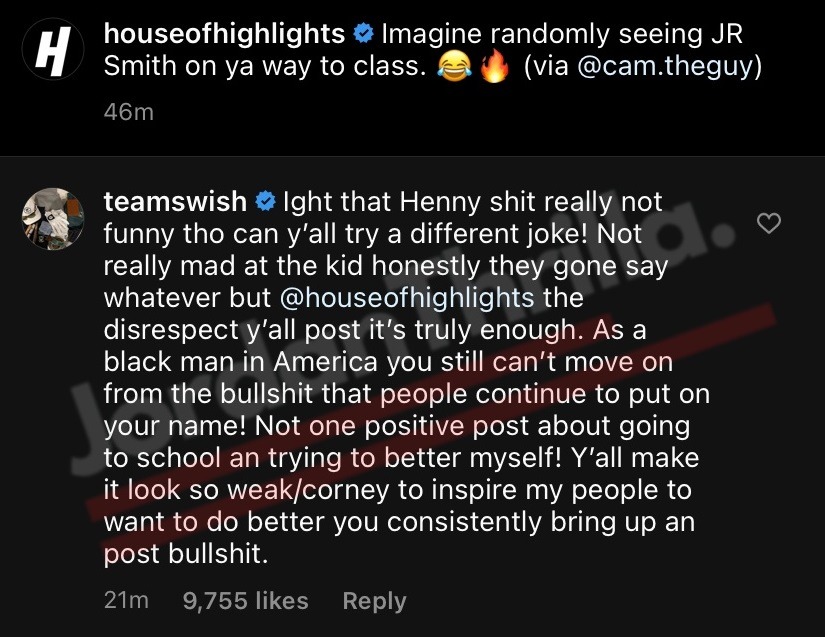 Why Is JR Smith Going Back to College at North Carolina A&T?
The decision he made to attend one of the most well known universities in North Carolina was based on two factors. JR Smith is pursuing a degree in Liberal Arts, and they happen to have one of the best programs in that area. In addition JR Smith is joining North Carolina A&T's golf team if he can clear waivers that prohibit professional athletes from joining college teams.
Who Convinced JR Smith to Go Back to College?
The motivation behind JR Smith attending North Carolina A&T came with help of Ray Allen. He was able to convince JR Smith to make the decision as they were playing golf together in Dominican Republic. It appears JR Smith wants to follow Ray Allen's example of being an athlete that goes back to school to challenge themselves with new endeavors. JR Smith joining Aggies' golf team adds to that challenge even more.
The word is out now. Stop associating JR Smith with Hennessey.
Author: JordanThrilla Staff