Patrick Beverley got Jeff Green very mad during Nets vs Clippers. Jeff Green kicked a Gatorade stand after Patrick Beverley set an illegal screen on him.
The play had him down for several minutes as he was writhing in pain. The whole time Patrick Beverley was arguing with the referees that is was not a foul. The replay show Jeff Green's neck making a dangerous torque.
When he got up Jeff Green kicked the Gatorade stand with a massive amount of force.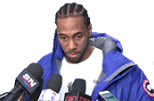 Jeff Green has been one of Nets most important players, so losing him would be huge with Durant still out. He has become a force from the three point line, and has always been a versatile defender.
Hopefully it's just a stinger.
Author: JordanThrilla