Ever since he showed out at the Axe Euro Tour Bronny James has been the hottest topic in NBA and High School basketball discussions. Recently reports about his future after graduating surfaced connecting him to Oregon University. However, Lebron has now come out basically shutting down those rumors completely.
Lebron James Reacts to Reports of Bronny James Playing for Oregon Ducks
Bronny James has one more season of high school basketball left before the most important stage of his journey to being a possible NBA player begins. Soon he will have to make the decision on what college he will play for, or if he will skip college all together and go straight to G-League like Dwyane Wade's son or Jalen Green. Recently reports surfaced that Bronny James committed to Oregon Ducks, but Lebron had something to say about that.
Based on a statement from Lebron James the rumor of Bronny James playing for Oregon Ducks is completely false. According to Lebron, Bronny hasn't visited one school yet, and isn't even close to making a decision. This is completely the opposite of the report from on3 sports that stated "Speaking with sources close to the situation, the ties to Oregon are deep…Sources tell us that at this point, Oregon has a lead and that James will end up in Eugene".
Lebron reacted to the Bronny James Oregon Ducks rumor saying, "He hasn't taken 1 visit yet and has only had a few calls with coaches and universities. When Bronny makes his choice you'll hear it from him".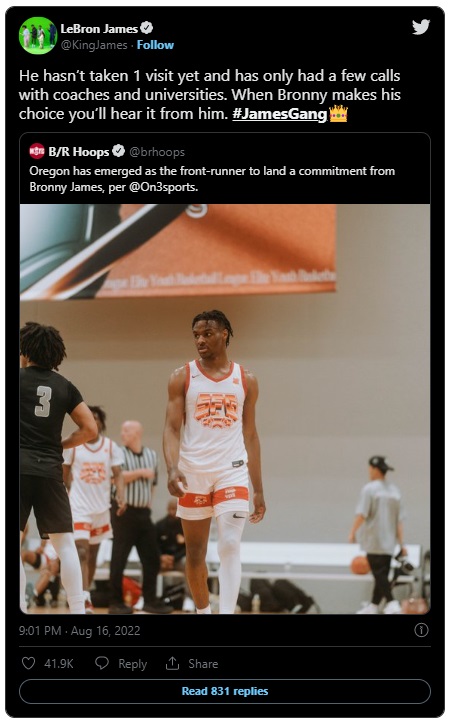 Whatever college Bronny does play for is going to have the kind of star power that has people flooding gyms like the video below from one of his high school games.
Details About the 5 Other Colleges Bronny James Has Been Linked To
Before the reports linking Bronny James to Oregon Ducks, it was report by Rivals.com that the only college that has officially given Bronny James an offer is North Carolina Central, and that he allegedly has interest in Duke, Kansas, Kentucky, and North Carolina Tarheels.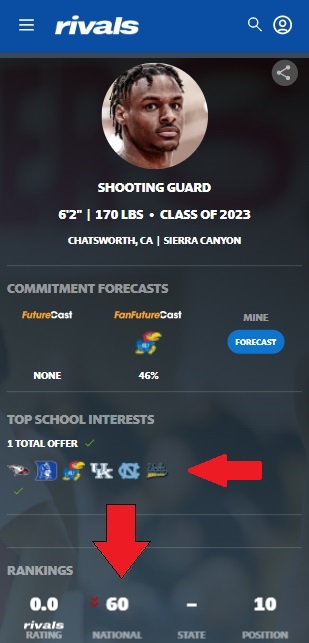 Oregon is great place, but it's tough to believe that Bronny would want to be there after living in LA.