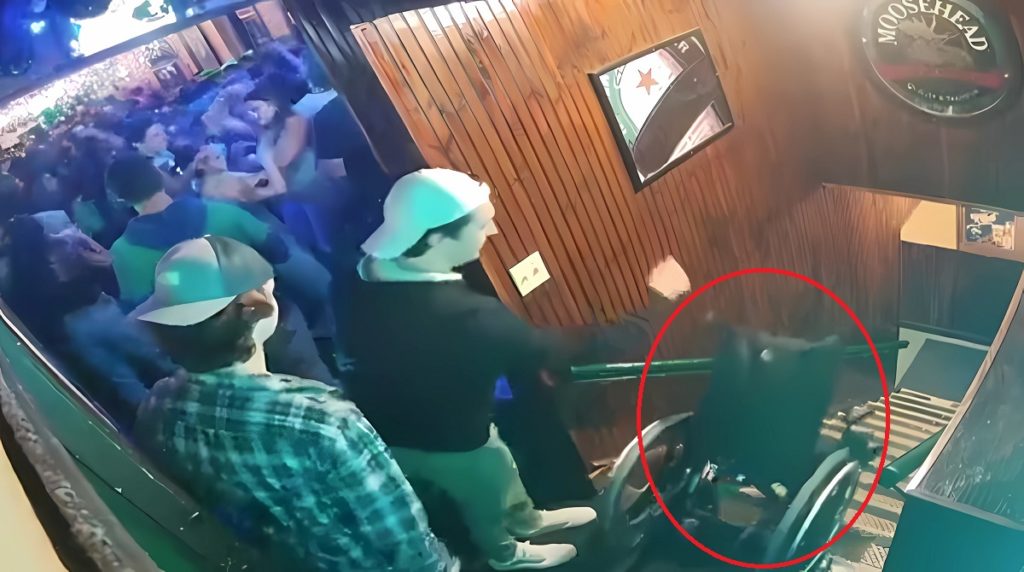 A video that has gone viral on social media shows a disturbing act of disrespect and cruelty by a college hockey player. The video allegedly shows Carson Briere, a junior center on the Mercyhurst University hockey team, pushing a wheelchair down a flight of stairs at what appears to be a club or bar. The wheelchair reportedly belonged to a disabled woman who had to be physically carried down the stairs to use the only bathroom in the establishment.
The security footage is timestamped Saturday, March 11, at 11:37 PM ET. The person in the video can be seen wearing a white baseball cap and sitting in the wheelchair for a moment before rolling it down the stairs as others look on. The wheelchair crashes into the wall at the bottom of the stairs, causing damage to both the chair and the wall.
The video has sparked outrage among many people who have seen it online, especially those who are part of or support the disability community. Many have called for Briere to face consequences for his actions, such as being expelled from his university or suspended from his hockey team. Some have also questioned why there was no accessible bathroom for disabled patrons at the club or bar where this incident took place.
One twitter user named Julia who witnessed the act wrote, "I usually don't post anything serious on my twitter but something happened Saturday night and just can't stomach the thought of this kid getting away with it. In the video below is an @MercyhurstU student, and is currently on the @HurstMensHockey team. Carson Briere". The footage was disturbing that people were posting out of character while reacting to it.
How an NHL Dad is Connected to the Video
Briere is not just any college hockey player. He is also the son of Daniel Briere, a former NHL star who played 16 seasons in the league, mostly for the Philadelphia Flyers. Daniel Briere is currently serving as interim general manager for the Flyers after Chuck Fletcher was fired last week. This adds another layer of scrutiny and embarrassment to this situation.
This video shows an appalling lack of judgment, empathy and respect by Carson Briere. It also shows how much work still needs to be done to make our society more inclusive and accessible for people with disabilities. No one should have to endure such humiliation, and hardship because of their physical condition. Hopefully this incident will serve as a wake-up call for Briere, and others who may think that this kind of behavior is acceptable or funny.
Carson Briere's Arizona State University Scandal
This is not Carson Briere's first brush with trouble either. He was previously dismissed from Arizona State University's hockey team for violating team policies. He transferred to Mercyhurst University as a result and played 30 games this season. It seems like he hasn't learned from that situation, because he's still making bad decisions.