The selection of Bronny James to be part of the McDonald's All-American Class of 2023 has surprised many people in the basketball community. Most are stunned that the younger James was chosen over Mikey Williams, who is widely regarded as the much better player.
Why Wasn't Mikey Williams Selected to the McDonald's All-American Class of 2023 Instead of Bronny James?
Despite being younger, Bronny James is talented beyond his years, showing off impressive ball handling skills, court vision, and shooting. He has made several clutch shots, leading his high school team to several tournament wins. His selection to the All-American class was based on his outstanding performances in the past year.
Meanwhile, Mikey Williams has been one of the most talked about high school basketball players since his freshman year. His highlight reel plays have made him the subject of numerous interviews and media coverage. He is an outstanding player, with some even comparing him to the great Kobe Bryant and even Lebron James. The fact that he wasn't selected to the McDonald's All-American class of 2023 has many people stunned.
The selection of Bronny James over Mikey Williams has caused many people to question the selection process of the All-American class. Was Bronny James simply a better fit for the team, or did the selection committee overlook Mikey Williams' many accomplishments? Is this the result of the Lebron James effect where nepotism gives Bronny an unfair advantage? It's hard to say for sure, but it has left many people questioning the decision and stunned that such a talented player wasn't selected. Take a look at some reactions.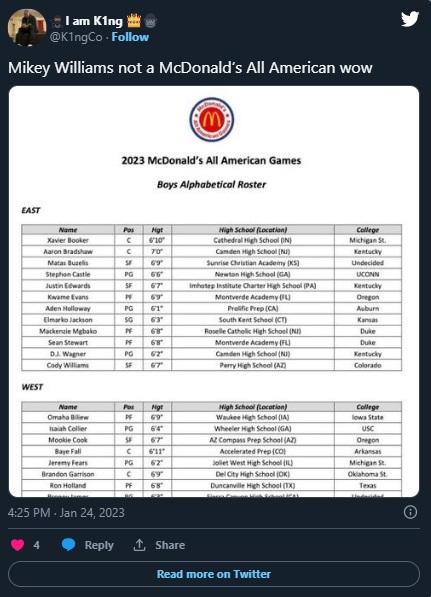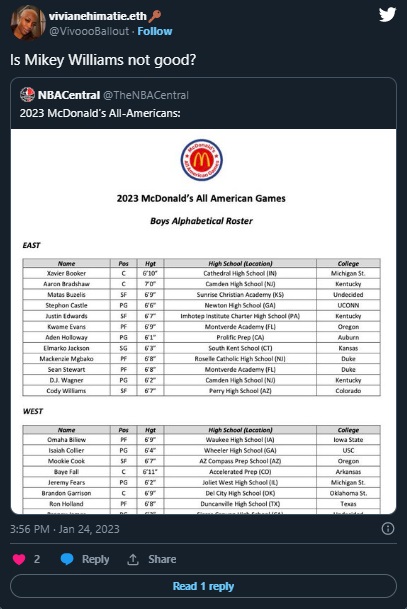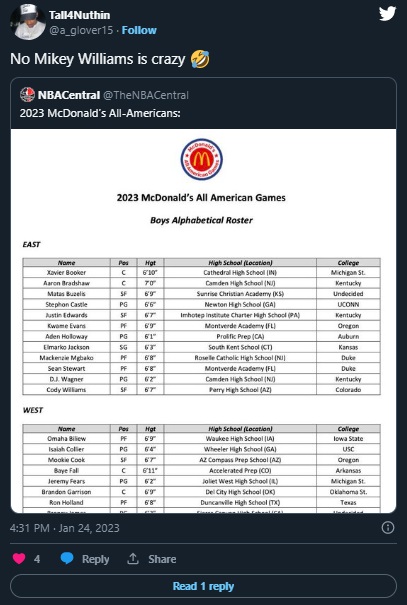 Mikey Williams has been underestimated in the past, but that is beginning to change. Following the announcement of Bronny James' selection, many people have come out in support of Mikey Williams. They are stunned by the decision and feel that it is unfair to such a talented player. They are now taking to social media to show their support, and to make sure the basketball world knows about Mikey Williams and his accomplishments.